At-Home COVID Test Option for Alaska Travelers
The State of Alaska currently requires all travelers entering the state to have taken and passed a COVID-19 test within 72 hours or 5 days of arrival in order to avoid quarantine.
If testing is not available in your area, an at-home test may be a good option for you.
Test Kit
Pixel by LabCorp makes an FDA approved at-home COVID-19 PCR test kit. The kit comes with everything needed to collect a nasal swab sample and send it to a lab for testing. It is available to all individuals who meet screening criteria for COVID-19 testing.
Check that at-home testing is permitted in your state.
Tests can only be ordered for adults 18 years or older.
Test Kit Process
Register Online & Order Kit
Complete the At-Home Test Kit Survey. This will determine your eligibility for testing. Selecting that you've been in a "Congregate Setting" generally qualifies most people for the test.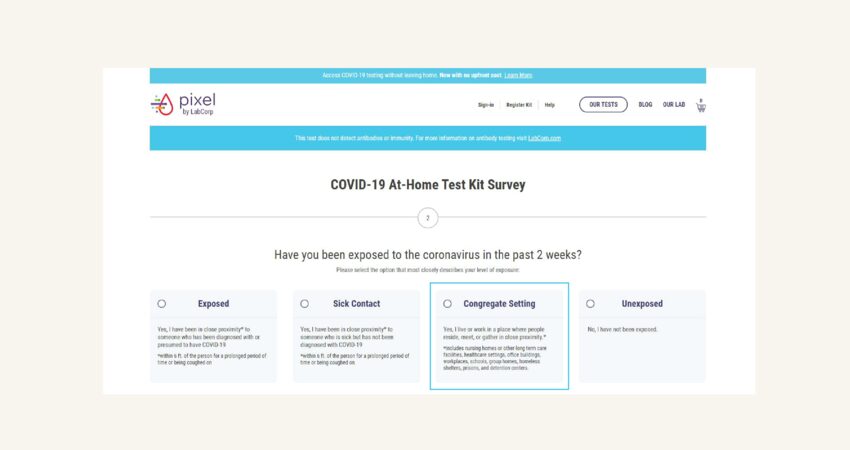 Select a payment option: Insurance, qualified coverage by federal funds, pay by credit card ($119).
Submit order. Repeat for every person traveling. You'll receive an email when your test kit ships.
Collect Sample & Send to Lab
Receive kit next day via FedEx Express (depending on when ordered).
Follow the kit directions carefully. Collect sample and package as directed. Send back FedEx Express

only

.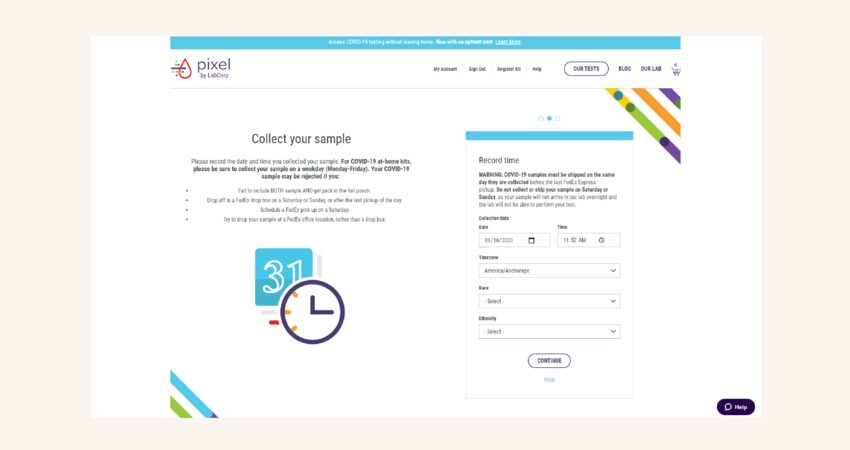 Sample can

only

be collected and sent in Monday through Friday. Samples collected and/or mailed on Saturday or Sunday will be rejected by the lab.
Receive Results & Travel
You'll receive an email when the lab receives your sample (usually the next morning) and a final email with your test results (usually within 24 hours after the lab receives the sample).
Bring results with you when you travel to Alaska. A digital copy on your phone is sufficient.
Timeline Example
Let's say you're scheduled to arrive in Alaska on a Saturday. Working backward, your testing timeline will look something like this. Note that this timeline is based on our experience but likely to differ depending on your location.
Have more questions about the Alaska traveler mandate? We did, too, so we put together some FAQs here.
---
At Alaska Tour & Travel, we specialize in building custom trips for every timeline, personality, and budget. If you'd like to have an Alaskan plan your Alaska trip, give us a call at 800-208-0200.
---
Posted on June 22, 2020 in: Local Advice