Congratulations to Sarah Ann Loreth, winner of our 2019 Alaska Travel Photo Contest! Sarah's photo of Denali towering above the Tokositna Glacier stood out among some 300 entries for its scale, countless details, and how it uniquely captured the experience of traveling in Alaska.
We caught up with Sarah, who now resides in Talkeetna, for a quick Q&A.
Where/when did you take the photo? Was this your first time on a Denali flight?
I took this photo in August. It was a cloudy weather day with scattered rain storms and I was hoping for rainbows! The Alaska Range did not disappoint, I think we saw four rainbows during the flight. This was not my first [Denali] flight. That summer I was fortunate to be hired for seasonal employment with K2 Aviation and I was using my day off as an opportunity to go flying!
When did you move to AK? What was your first impression?
This will be my first winter in Alaska. Last season I was so enamored by the landscape and really grew to love my job, so I came back for a second summer to work at the airport and just haven't left! My first impression was one of wonder. I remember flying into Ted Stevens the first time as a 10 PM sunset lit up the Chugach Range. I couldn't wait to start exploring the state.
How, for you, does your photo capture the experience of travel in Alaska?
I hope my photo captures the vast and rugged landscape of the Alaska Range. The first time I saw Denali, the highest peak in North America, the sheer magnitude took my breath away. Flightseeing is truly the closest you can get to the peak if you are not climbing it. The landscape is very unforgiving.
Do you have any advice for travelers visiting Alaska for the first time?
Don't be afraid of weather, but prepare for it!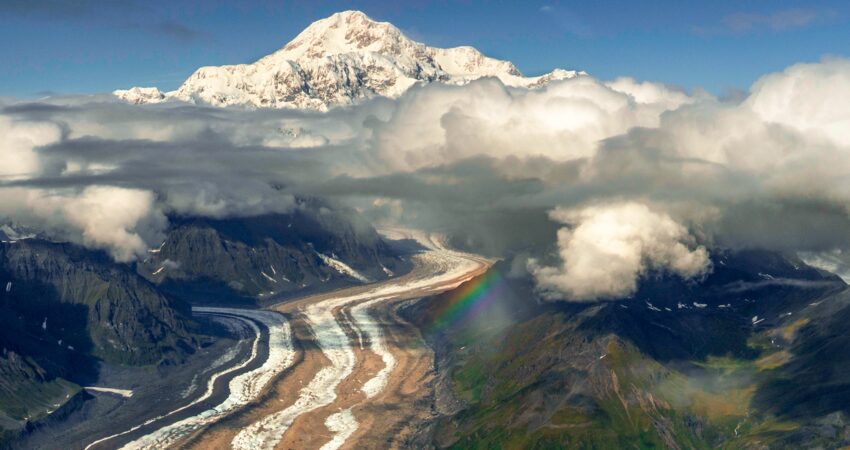 ---
At Alaska Tour & Travel, we specialize in building custom trips for every timeline, personality, and budget. If you'd like to have an Alaskan plan your Alaska trip, give us a call at 800-208-0200.
---
Posted on December 11, 2019 in: Favorite Places, Local Advice, Alaska Life