Congratulations to Jane Oh, winner of our 2020 Alaska Travel Photo Contest! Jane's photo of the Knik Glacier framed by fall time alpine colors and a dramatic sky drew the top prize out of nearly 300 contest entries. There were some incredible ones this year, and yet Jane's stood out to because it had such a sense of awe, solitude, and freedom: So very Alaska, and so very welcome this year especially.
We caught up with Jane for a quick Q&A about her Alaska trip and her winning photo, "Ice and Blooms."
When did you travel to Alaska? Have you been here before or was it your first trip?
I was in Alaska from September 11 to 19, 2020, and it was my first time traveling to Alaska.
What brought you to AK? Where did you visit?
I have always wanted to come to Alaska because of all the natural and untouched beauty that I'd always heard about from people who had traveled there. There are so many natural wonders in Alaska such as the glaciers, Denali, wildlife, etc. that are on my bucket list so it was a place I was definitely going to travel to at some point in my life, and I was fortunate enough to go this year, even amid the way 2020 has been for everyone. I traveled with a close friend and we decided to make our own itinerary and rent a car and go! We flew into Anchorage and drove to Seward, Whittier, took a helicopter tour out of Alaska Glacier Lodge in Palmer, Fairbanks, Denali, then back to Anchorage where we took our flight home.
What were your impressions of Alaska?
We were blown away by just how beautiful the state was. Everywhere we stayed and traveled to, as well as the drives to the different places were so amazing. We must have stopped on the side of the road a thousand times to take pictures and take everything in. It truly is one of the most beautiful places I've been to, and especially with the changing of the leaves made it even more magical.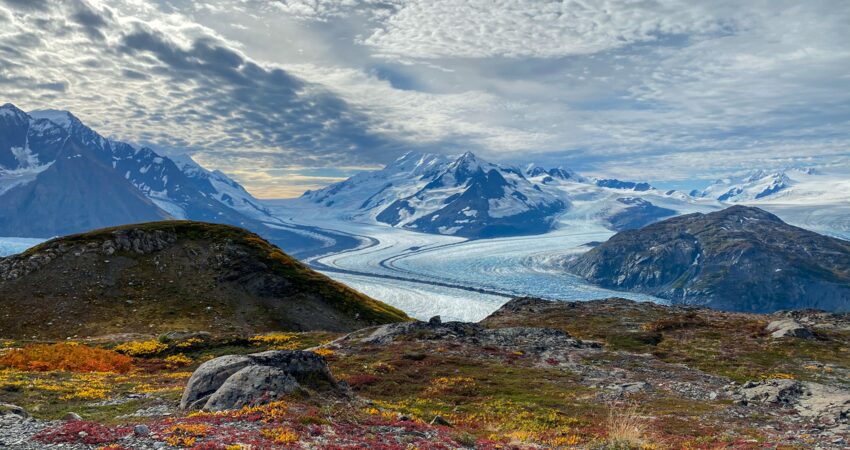 Where did you take the Knik Glacier "Ice and Blooms" photo from? And what was that day like?
We did a helicopter glacier tour on the 14th of September. One of the places that the pilot landed was on a mountainside that overlooked Knik Glacier. Although the weather that day was mild (high of about 60 degrees), the morning had started off overcast. When we landed and got out of the helicopter, the sun decided to peek out a little bit from the clouds and the way the light reflected off the mountainside and the glacial ice was really a sight to see. "Ice and Blooms" was taken at that moment.
Do you have any travel tips for future Alaska travelers?
Tips I would give to future Alaska travelers would be to just rent a car and drive around. I feel like that really gave us an opportunity to take as much of Alaska in as possible and really be able to immerse ourselves in the beauty and wilderness that the state had to offer. We don't regret it one bit!
---
A sincere thank you to everyone who participated in the photo contest this year!
---
At Alaska Tour & Travel, we specialize in building custom trips for every timeline, personality, and budget. If you'd like to have an Alaskan plan your Alaska trip, give us a call at 800-208-0200.
---
Posted on November 05, 2020 in: Favorite Places, Local Advice, Alaska Life