Congratulations to Molly McCormick, winner of our 2020 Alaska Travel Photo Contest! Molly's photo of a lone bear walking through mist drew the top prize out of nearly 500 contest entries. There were some incredible ones this year, and yet Molly's stood out for the story it tells, and for the sense of calm, solitude, and wildness that it evokes.
We caught up with Molly for a quick Q&A about her Alaska trip and her winning photo, "Bear Reflection."
When did you travel to Alaska? How long was your trip?
I travelled over late August 2020, it was my very first Alaskan adventure. I was there for two weeks.
What brought you to Alaska? Where did you visit?
I was a Grand Prize winner in the "Beyond the Frame" photo contest hosted on the National Geographic Your Shot Instagram account earlier in 2020. Part of my prize was a trip out to Alaska to capture sled dogs in the off season, which honestly was a dream come true. The shoot took place in Willow and we spent a little bit of time in Anchorage. After the assignment I wanted to make the most of my trip and visited a few spots: Talkeetna, Denali, and Lake Clark National Park.
And about your winning photo, what was that day/setting like? Did you stumble upon the perfect shot, or had you been out for a while? Whereabout in Lake Clark National Park were you?
As a nature and wildlife photographer, I feel like you're constantly searching for that "perfect moment." The moment when you take the shot and you say "that's it, that's the one." Well, this was that moment. I was traveling with fellow photographer, and Alaskan photography idol, Jeff Shultz. We ventured out at sunrise along Crescent Lake to seek out some bear action.
There was a gorgeous mist covering the river, and it was so silent all you could hear were distant loons and the ripples of the river. We were shooting from a flat bottom river boat off the shore, and there was a brown bear walking the opposite direction. I actually turned around to capture the setting without the bear. The mountains mixed with the fog, clouds, and water delivered the perfect landscape shot. As I was setting up the shot, that particular bear turned around and started walking right into my frame because a sow and two cubs were heading in its direction. It honestly was pure luck, and one of those moments where your jaw drops. Jeff and I were like two little kids in a candy store, those types of moments in nature and so rare and so precious.
Do you have any travel tips for future Alaska travelers?
Yes, start putting coins in a piggy bank now because once you go you'll want to go back immediately! Alaska is breathtakingly gorgeous and you do not need to travel far for stunning views. It's very easy to get caught up in the things you should and shouldn't do. It sounds cliché, but while there, take time to reflect and do some soul searching. Close your eyes and listen, and allow Mother Nature to guide you to places you will never forget.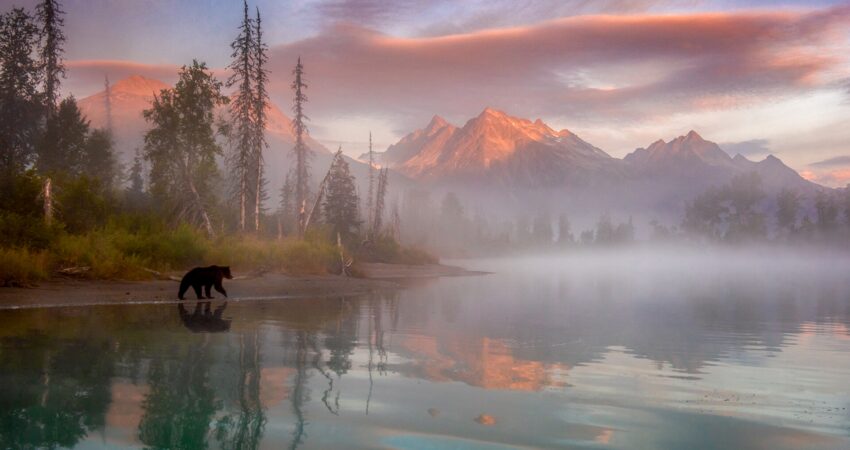 Beautifully said, Molly! Thank you to all the talented photographers who submitted their work to this year's contest.
---
At Alaska Tour & Travel, we specialize in building custom trips for every timeline, personality, and budget. If you'd like to have an Alaskan plan your Alaska trip, give us a call at 800-208-0200.
---
Posted on November 02, 2021 in: Favorite Places, Local Advice, Alaska Life