Congratulations to the 2022 Alaska Travel Photo Contest winner: "Archangel Reflections" taken by Caitlin Pobliego.
Caitlin's photo was voted top pick out of more than 500 entries. It wasn't only the composition and natural beauty that caught our eyes. It was the feeling it gave us. The feeling of exploring new places, of having nowhere else to be but in the moment. Alaska has a way of conjuring that feeling on the daily.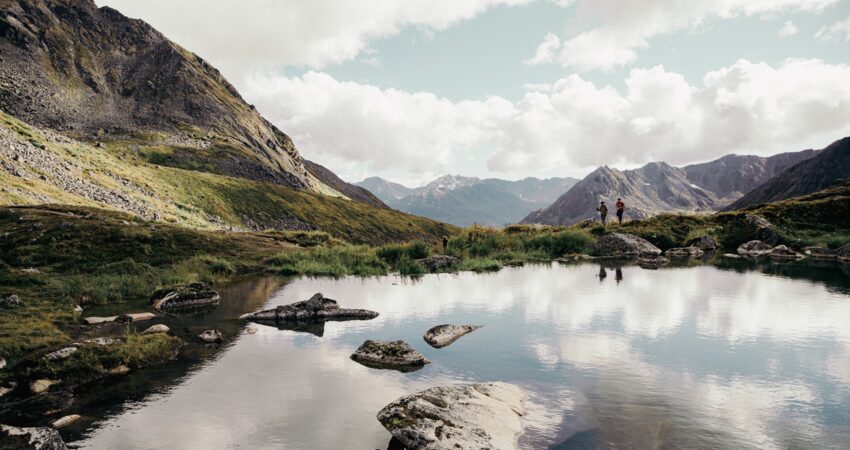 Caitlin took the photo in Hatcher Pass. She told us a bit more about the day she took the winning photo below:
What's your Alaska story? Are you from here, did you move here, are you from here and moved away but came back?
I was born and raised in Anchorage and have been here ever since! I have visited most of the states of the continental U.S., but in my eyes nothing will ever top the beauty here.
Can you tell us about the photo location? What was the day like?
I had always been curious of what Archangel Road [in Hatcher Pass] looked like during the summer. I had only been once prior during the fall and I fell in love with it. So one day in early September I decided to drive to the end and hike to the Monolith. Editor's Note: The Monolith is a popular rock climbing area in Hatcher Pass.
Camera in hand I reached the lake [just beyond the Monolith] and was blown away with how gorgeous the greens were and the reflection on the lake. After taking the photo I sat for a long while and watched the clouds move across the lake and other people enjoying the view as well.
Where are some of your favorite places in Alaska to photograph?
I love to photograph everywhere in Alaska, every inch of the state is perfect for photos. My absolute favorites are Hatcher Pass, Seward, and Denali.
As a local, what's one piece of travel advice you have for visitors coming up from the Lower 48?
Bring a camera everywhere! Anything will work. You'd be surprised how many amazing pictures you can get in unexpected places.
There were so many incredible contest entries this year, showcasing the Alaska experience from every angle. A sincere thank you to all the talented photographers who entered their photos!
Curious about the photo location? Learn more about the Hatcher Pass area, and check out a customizable Alaska itin featuring a day there.
---
At Alaska Tour & Travel, we specialize in building custom trips for every timeline, personality, and budget. If you'd like to have an Alaskan plan your Alaska trip, give us a call at 800-208-0200.
---
Posted in: Favorite Places