With the demand for Alaska travel high again this summer, our reservation agents share their tips on how to get your top experiences reserved first and booked quickly.
Tip 1: Utilize Those Online Tools
These travel finders are linked to our reservation system, so current availability information is synced. Additionally, every product has an availability tab with a color-coded calendar: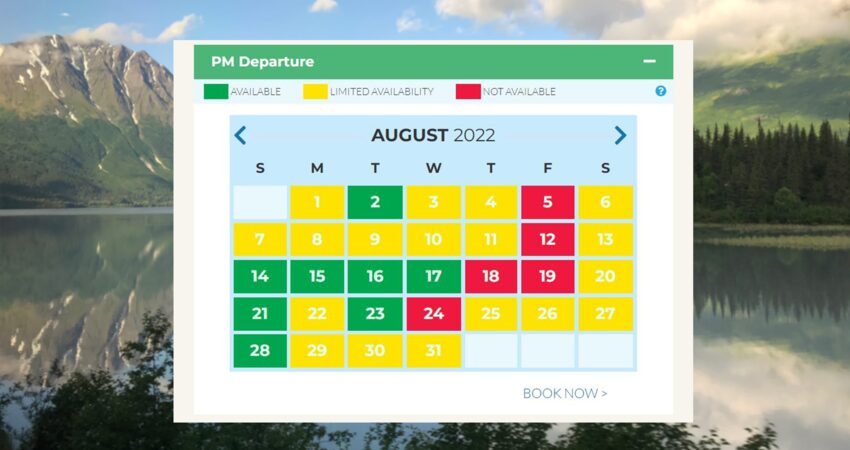 Green days have availability

Yellow days either have limited space left

, or space may be available by request only

Red days are not available

because the product is either sold out or not operating
In most cases you can book anything that's green online using My Trip. All reservations made online are reviewed by a reservation agent to ensure accuracy before payment is processed. We'll send back a confirmation email within 24 hours.
If you're attempting to book anything that's yellow online, you'll receive the message below at check out. We prioritize bookings that provide payment to confirm but will never charge your card without confirming any changes with you first.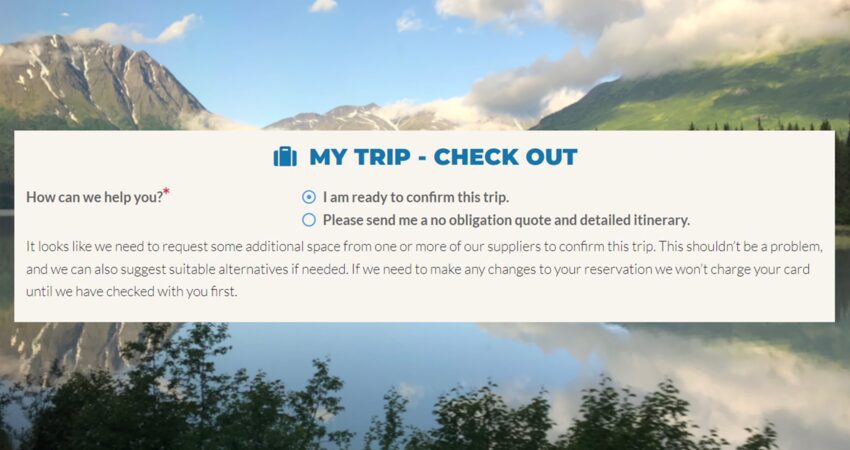 If you're booking a vacation package, you won't see individual product availability, but our system will automatically replace unavailable products with similar options when possible.
Tip 2: Know How Best to Get in Touch
We're a small but mighty reservations team and we all work together to assist our guests. You may not always catch a specific agent at any given time, so feel free to work with any member of our reservations team. These are the best ways to communicate efficiently with us:
Give us a call and leave a message if all agents are on other lines (rather than calling back to try and get through). We prioritize voicemails and can usually call back within two or three hours.
Send us an email. We monitor these continuously and distribute to the team to answer several times a day.
If you're looking for a quote, we can get the process started if we have some good details like how many travelers, dates of travel, duration, things you'd like to see/do, and good contact information (phone and email especially).
Tip 3: Know Your Cancellation Options
If you have any concerns about confirming, note that all guests confirming their trip at least 60 days prior to travel will have 14 days to change their deposit and cancellation waiver choices, modify their reservation, or cancel their entire trip for a full refund.
Guests who purchase our Worry-Free Cancellation Waiver, or who purchase Travel Insurance through Alaska Tour & Travel, may change or cancel their reservation without a fee or penalty up until 31 days prior to travel. Check out more details here.
Tip 4: Questions About an Existing Reservation? Check Your Docs
Want to double check departure details or final payment date on a confirmed booking? Read through your confirmation email, all attachments, and final travel itinerary (emailed 45 days prior to travel). Most questions you have will be answered in these helpful documents.
Tip 5: Plan Your Trip for the Shoulder Season
Right now we're able to quickly confirm reservations for our shoulder season, which in Alaska is mid-May and late August into early September. Each is a uniquely special time to visit. And along with ease to book, you'll enjoy Alaska with a few less people, too.
---
At Alaska Tour & Travel, we specialize in building custom trips for every timeline, personality, and budget. If you'd like to have an Alaskan plan your Alaska trip, give us a call at 800-208-0200.
---
Posted on April 11, 2022 in: Local Advice