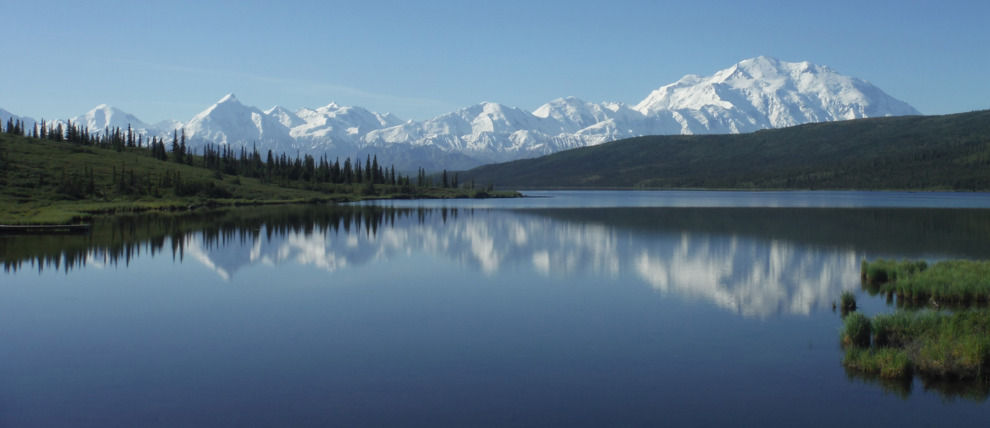 Alaska is Open for Travel
And more popular than ever. Here is what you need to know.
Alaska Travel Updates
This page contains important information about planning your trip, making reservations, Covid-19 advisories, rental car supply, and the new Alaska Railroad schedule. Please take a few minutes to review these important details.
TRIP PLANNING & RESERVATIONS
Our reservation office is currently experiencing unprecedented call volume. Alaska is a great return-to-travel destination and a record number of travelers are looking for assistance with independent travel arrangements. We are doing our very best to help as many travelers as we can. In the meantime...
Limited Availability into August.

Many popular products including trains to Denali Park, lodging in Seward and Talkeetna, and some day tours have sold out into early August. If you're just getting started planning, we encourage you to travel to Alaska mid-August or September.

Useful Lodging, Activity, and Transportation Finders.

Try these tools to quickly find available transportation, hotels, activities, and complete vacation packages. If you'd like to find something specific, use the search bar at the top of any page. Just click the magnifying glass to get started.

Book Online.

Most everything we sell is available to book online. Check the "availability" tab for any individual hotel, transportation, or activity. If your date is "green" you can book online and get an instant confirmation. Just add items to your My Trip cart, and when you check out select the "ready to confirm" option. Include all the guest names from your party and your payment information for priority processing. We will always check with you first if your trip cannot be confirmed exactly as requested.

Last Minute Bookings

. Due to availability challenges, we don't arrange full vacation packages within four weeks of travel. We DO handle last minute train and bus only bookings.

Traveling Next Year?

We typically begin booking trips in fall for the following year. To thank you for your early interest, if you confirm by the end of October you will have priority access to inventory and

save 5% off our 2022 prices

.

Thank You for Your Patience!

If you reach our voicemail, please leave a message and we will do our best to return your call within 24 hours.
COVID-19 TRAVEL ADVISORIES
There are no requirements for testing, vaccination, or quarantine for travel to Alaska. Visit this page for more information on optional recommendations. Expect to wear a mask when traveling on transportation services including the Park Connection Motorcoach and Alaska Railroad, as well as when visiting indoor spaces like restaurants and museums when social distancing is not possible.
RENTAL CAR SHORTAGE
The national rental car shortage has hit Alaska especially hard, and our suppliers are sold out through the beginning of August. Here are a few suggestions:
If your dates are flexible, travel in August to early September. We have a number of self-drive vacation packages with good availability.
If you can find your own car, either through the national chains or a company like Turo, we can quote any of our packages without a car at a substantial savings.
Keep in mind, most of our guests travel by train and motorcoach, even in a "normal year." Check out our train vacation packages or our Trip Finder.
Denali National Park Bus Tours
Capacity on the popular Tundra Wilderness Tour has been increased, making it easier for travelers to book seats now through the end of the summer season. Bus tours with private companies like the Denali Backcountry Adventure and the Kantishna Wilderness Trails are also an option, though space is getting tight. Bus tours are just one way to see the park, so for more ideas please check out these 4 Unique Ways to Experience Denali National Park.
MODIFIED ALASKA RAILROAD SCHEDULE
The Alaska Railroad is running a modified schedule to Denali Park this summer, with service limited to one direction of travel Monday through Saturday. On Sundays the train operates in both directions on its regular schedule.
GoldStar Dome space is sold out on many dates for the summer, but the Wilderness Express Dome is a great alternative for destinations north of Anchorage including Denali National Park.
The Park Connection Motorcoach continues to operate two trips daily seven days a week between Denali, Talkeetna, Anchorage, and Seward.
Alaska Cruises
Unfortunately, most Alaska cruises have been cancelled for the 2021 season. The good news is that there is still time to plan a land-based trip to Alaska for later this summer. August and early September are beautiful times to visit, and availability of popular activities and lodging choices is more plentiful.
Some cruise lines plan to offer a limited number of roundtrip cruises to Alaska from Seattle later this summer. Due to the uncertainty of these voyages, our company will not be taking reservations for any Alaska cruises in 2021. If you are interested in booking a 2022 Alaska cruise, please wait to contact us until after August 1 as those schedules continue to firm up.