Reserved seating in an upper-level dome car. 360-degree views. Train hosts narrating throughout the trip. Perks like a private dining room and in-car bar. This is the dome train difference. You've got three options to choose from.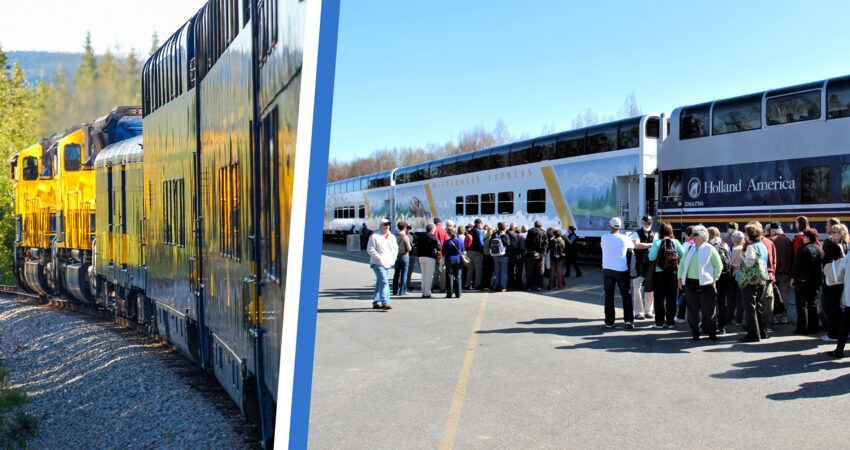 Alaska Railroad GoldStar Service
You can travel the full length of Alaska's "railbelt" on the premier GoldStar dome service. This includes stops in Seward, Anchorage, Talkeetna, Denali Park, and Fairbanks. Along with an upper-deck outdoor area popular among photographers, a GoldStar ticket also include meals and two adult beverages.
Wilderness Express
Locally owned and operated, the Wilderness Express serves Anchorage, Talkeetna, Denali Park, and Fairbanks. It travels on the same timetable as the GoldStar dome, making the "WEX" as we call it a good alternative to GoldStar, or vice-versa. One difference is that these are private cars, so you're not able to walk the length of the train. This service is known for local food, drinks, and even artwork. For the luxe onboard experience, the Wilderness Express is the most economical option for families.
McKinley Explorer
This dome train is primarily operated for cruise passengers, but at Alaska Tour & Travel we also book tickets for independent travelers. The McKinley Explorer runs on a slightly different schedule than GoldStar and Wilderness Express. It only serves Anchorage, Talkeetna, and Denali Park.
Compare and Book
All of these dome trains can be booked on this site!
---
At Alaska Tour & Travel, we specialize in building custom trips for every timeline, personality, and budget. If you'd like to have an Alaskan plan your Alaska trip, give us a call at 800-208-0200.
---
Posted in: Getting Around