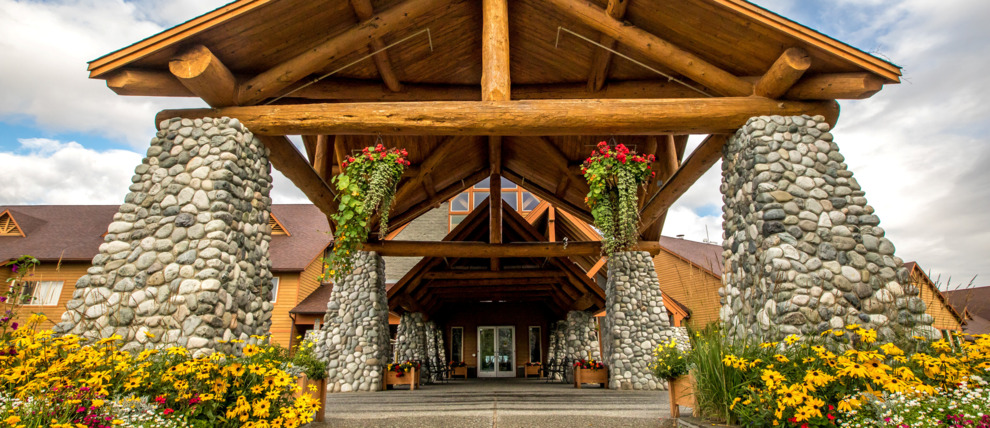 Alaska Lodging
Settle into a comfortable hotel, cozy lodge, private log cabin, or Alaskan wilderness retreat.
Alaska Lodging
Alaska Tour & Travel is proud to offer travelers space in many of Alaska's finest lodges and hotels. Join us for a stay at a "big city" hotel in Anchorage, riverside getaway in Fairbanks, or cozy lodge at Denali National Park, Talkeetna, and Kenai Fjords National Park in Seward.
You can choose to stay in a more traditional lodge or hotel, private cabin, or even at a remote wilderness lodge. We carefully inspect each facility, and since we never add a markup or booking fee, you are assured the lowest possible rates. We guarantee it.
Keep reading to learn more about our picks for the best hotels and lodges in Alaska, and be sure to contact us if we can be of assistance.
To find the perfect lodging option for your party, you can browse by destination, property type, or try out our Alaska Lodging Finder feature. We can help you with your activities and transportation as well, or you can check out our most popular vacation packages that combine all three. Alaska hotels fill up quickly for summer travel dates, so the earlier you can plan your Alaska trip, the better.
Denali National Park - Entrance Area
There are a few facts about Denali Park hotels that may come as a surprise. First, all hotels near the Denali Park entrance are located just outside the park. Second, Denali (the mountain) is not visible from any of them, which is why nearly everyone takes a bus tour into the park. One of our top picks for the Denali Park entrance area is the Grande Denali Lodge, and even though you can't see Denali from your room, the views across the Nenana River Canyon into the park are sure to impress. Check out the Grande's sister property, the Denali Bluffs Hotel, for a more value-oriented option.
Kenai Fjords National Park – Seward
Kenai Fjords National Park is a must-see destination for any Alaska vacation, and Seward is the place to stay to experience the park. If you are looking for tranquil and secluded, pick the Seward Windsong Lodge, located just outside of Seward on the road to Exit Glacier. For a convenient stay in town, consider the Harbor 360 Hotel located at the Seward Small Boat Harbor, literally steps away from the departure point for Kenai Fjords cruises.
Talkeetna
Staying in Talkeetna is a great complement to a two-night stay up at Denali Park. There are spectacular Denali flightseeing opportunities from Talkeetna, and it is also the perfect place to split up the trip from Seward to Denali Park or vice versa. In the Talkeetna area, really nothing compares to the grandeur of the Talkeetna Alaskan Lodge.
Anchorage
Anchorage is the transportation hub of Alaska, so it is very likely that you will be staying in our hometown a night or two, often at the beginning or end of your vacation. If you are arriving or departing on the Alaska Railroad, the Wingate by Wyndham is a convenient option right near the train depot. Closer to the airport and right on the water, the recently renovated Lakefront Hotel is an excellent option if you plan to rent a car. If you would like a little pampering during your stay in Anchorage, chose the Captain Cook Hotel downtown. You are sure to come away refreshed after a visit to the top floor Ice Spa.