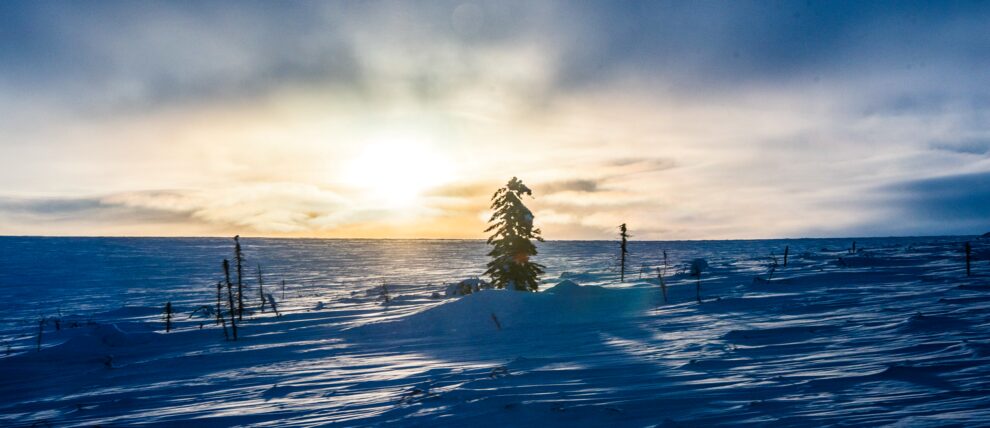 Alaska Winter & Aurora Travel
See Alaska in a whole new way.
Alaska Winter Travel
This might just be the best kept secret about Alaska: It's even more beautiful in the winter.
Landscapes are blanketed in snow. Layers of frost transform even the simplest objects into glittering sculptures. Ice crystals reflect in moonbeams and streetlights. Daylight, though limited, is bright and golden. And the night? Our dark skies are the perfect aurora canvas.
It's also a festive season, especially starting in February when days get longer and some of winter's best loved events take place. Feeling inspired?
See the Northern Lights
By far the biggest inspiration for visiting Alaska in the winter is the chance to see the northern lights. You've seen the photos and videos. Yet nothing compares to seeing the lights in person, which alone makes journeying north in winter well worth it.
Seeing the northern lights is one part planning and one part luck. Check out our northern lights viewing tips as well as our special Alaska aurora tours for a little inspiration.
Winter Destinations in Alaska
From the frozen tundra of the Arctic Circle to peaks covered in fresh powder near Anchorage, the Alaskan winter experience varies widely by destination. Fairbanks is a favorite in February, March, and April for its northern lights displays and networks of cross country ski and snow machine trails.
Denali National Park welcomes travelers in the winter, with the Murie Science and Learning Center as the official off-season visitor center. There are no tours into the park at this time, but plenty of ways to enjoy the park's snowy frontcountry on your own. Snowshoeing and dog sled rides are must-dos.
The myriad hiking trails in Anchorage are just as popular in the winter as summer, with many open to fat tire bikes or groomed for cross country skiers. Just down the Turnagain Arm, the Alyeska Ski Resort in Girdwood offers some of the best skiing and boarding in the state. If you go, take it easy at first. Alyeska runs are steep!
Winter Events
Like so many states that see long winters, Alaska makes the most of season with lots of local festivities. Fur Rendezvous, known by the locals as Fur Rondy, is a 10-day festival in Anchorage that culminates with the ceremonial start of the Iditarod. Think summer fair with winter coats and warm boots. There are fireworks and ferris wheel rides, but special events like the Running of the Reindeer give Fur Rondy a decidedly Alaskan flair.
Even Seward has something to offer in the colder months: Whale watching. In late winter (about April through early May, which is also known as "spring" in the lower 48) gray whales beginning passing Seward on their annual migration to Arctic waters farther north. Special gray whale watching tours run during this time, plus early season orca tours around May.
Up north in Fairbanks the World Ice Art Championships bring ice artists from around the world for a full month of competition. Using chainsaws, chisels, and tiny picks these talented sculptors transform massive blocks of ice into delicate works of art. The competition is open to the public, so it's possible to see the artists at work as well as their finished pieces.
These two festivals coincide, with Fur Rondy wrapping up on the first weekend in March and the ice sculpture competition running from about mid-February to mid-March.
Alaska Winter Trip Planning
With winter lodging and tours plus transportation options, you can easily plan a custom winter travel package with us. And if you dream of seeing it all, but without having to deal with your own logistics and transportation, check out our guided winter tour packages.
Alaska Winter & Aurora Travel