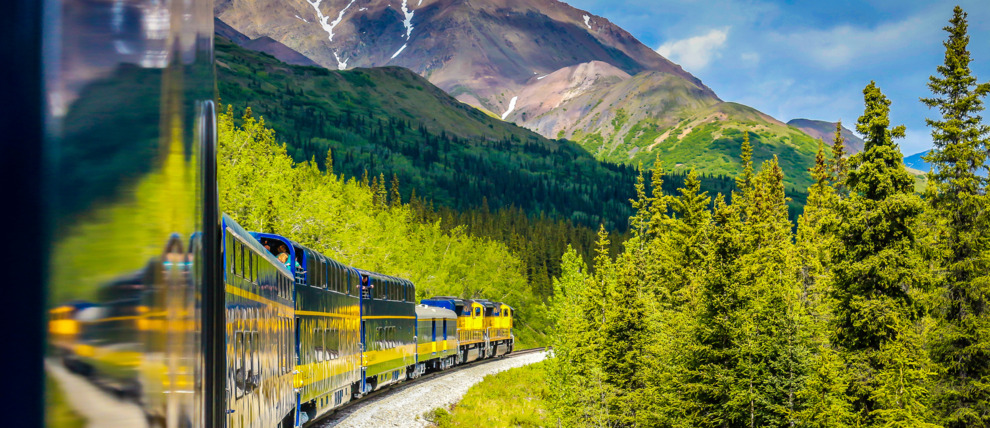 Alaska Transportation
Ride the train, take a bus, or drive yourself. In Alaska you'll find the journey as spectacular as your destination.
Alaska Transportation
Alaska is a big place and the decision on how you will travel from point to point is an important one. Alaska Tour & Travel offers an extensive list of options including the Alaska Railroad, private dome railcars like the Wilderness Express, the comfortable Park Connection Motorcoach, or the late model rental car. Many of our guests combine several modes of transportation on their Alaska vacation. As always, we work with the top operators and offer the lowest prices. Guaranteed.
Often the quickest way to find train and bus information is by utilizing our Alaska Transportation Finder. If you are ready to book online, head over to our Train & Bus Express Checkout. If you need advice on the best way to travel between two specific Alaska destinations, check out our "How to Get From..." series or contact us for assistance.
Alaska Railroad
The Alaska Railroad operates a number of trains during the summer months, including the Denali Star running north from Anchorage to Talkeetna, Denali National Park, and Fairbanks. Travelers can choose from either standard Adventure Class, GoldStar Dome service, or the Wilderness Express. The Wilderness Express features luxury dome railcars operated by a private Alaska company. These specialty cars are generally the last two cars of the Denali Star train. One additional option is the McKinley Explorer, another private dome train. The McKinley Explorer operates on a slightly different schedule and only between Anchorage and Denali Park. Too many options? Visit our compare trains page for a simpler breakdown. You can also contact us so that we can help you choose a train service that is just right for your party.
Traveling south from Anchorage, the Alaska Railroad operates the Coastal Classic train to Seward and the Glacier Discovery train to Whittier. The trip to Seward is considered by many to be the most scenic in the state. A day trip from Anchorage to Seward for a Kenai Fjords National Park cruise is a great option, but even better is a night or two in Seward if your schedule allows. The Glacier Discovery train to Whittier is a good choice if you are taking a day cruise from Whittier or connecting with a Glacier Route cruise to or from Vancouver. This same train continues to Spencer Glacier and Grandview, offering additional sightseeing opportunities.
Visit these pages to see the Alaska Railroad schedule and rates.
Park Connection Motorcoach
The Park Connection Motorcoach is a deluxe bus service operated by Alaska Tour & Travel that runs during the summer months between Anchorage, Talkeetna, Denali National Park, Seward, and Whittier. We offer twice daily morning and afternoon departures to most destinations, and offer special cruise transportation that connects with Glacier Route cruises in Whittier and Seward. One of the unique features of the Park Connection Motorcoach is the ability to travel in the same day between Denali Park or Talkeetna and Seward or Whittier. Traveling any of these routes by train or other scheduled transportation option requires an extra overnight in Anchorage along the way. Check out our Park Connection schedule and rates pages for additional details.
Rental Cars
We have many options for travelers who would like to drive themselves for all or part of their trip. On our Anchorage rental car page we offer standard cars, plus premium 4x4 SUV rentals and van rentals that allow you to travel on gravel roads like the Denali Highway. We also offer one-way Anchorage to Fairbanks car rentals or the reverse. If you are looking for one-way car rentals for Seward or Whittier, be sure to check out a unique offer on our Seward car rentals and Whittier car rentals pages.