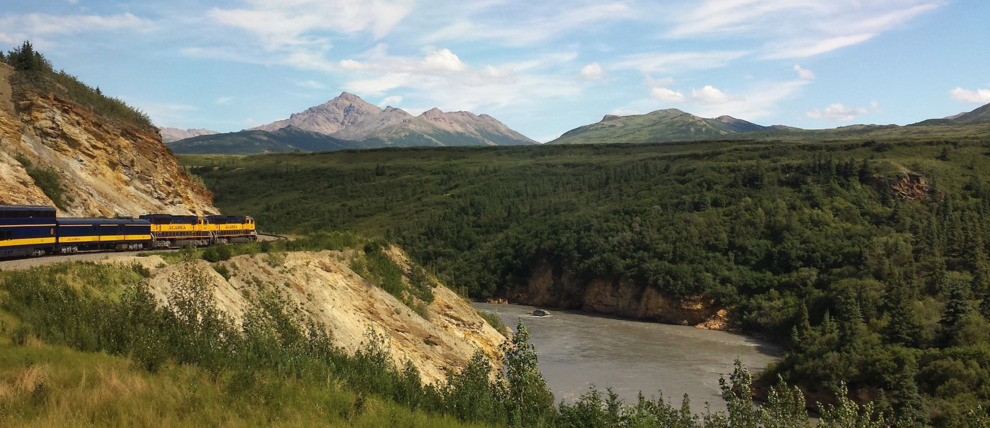 Alaska Railroad Denali Star Train
Connecting Anchorage and Fairbanks with Denali views.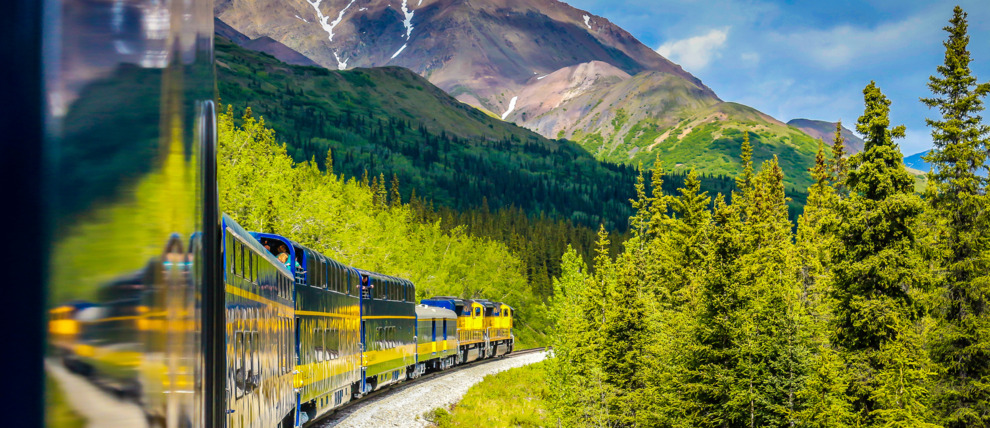 Alaska Railroad Denali Star Train
Connecting Anchorage and Fairbanks with Denali views.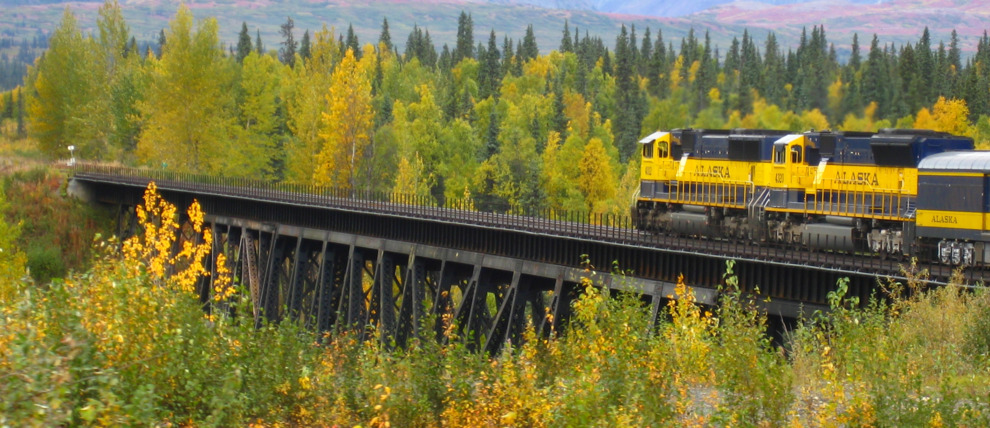 Alaska Railroad Denali Star Train
Connecting Anchorage and Fairbanks with Denali views.
Alaska Railroad Denali Star Train
For five decades before a road connected Alaska's two largest cities, they were linked solely by rail. Today that 350-mile trip is known as Denali Star, the Alaska Railroad's flagship route.
Major stops on this historic route between Anchorage and Fairbanks include Talkeetna and Denali National Park. Because there's so much to see and do along the way, nearly all visitors stop for an overnight in Talkeetna and/or two nights near Denali Park. Talkeetna is a charming little town and a hub for Denali flightseeing and glacier landing tours, while the Denali Park area is home base for wildlife bus tours into the park itself and many other activities near its border. From here visitors can continue north to Fairbanks or head south via the Park Connection Motorcoach for a budget-friendly return trip to Anchorage. To see how this looks in a complete vacation itinerary, check out our Alaska's First-Time Favorites and Best of Denali travel packages.
The Denali Star route winds through a range of landscapes within Southcentral and Interior Alaska. Heading north from Anchorage, it passes through Joint Base Elmendorf Richardson, across the Knik Arm and through Wasilla in the Matanuska-Susitna Valley. On a clear day, one of the best views of Denali comes at rail mile 224. After the Talkeetna Depot, the route crosses the Susitna River and then heads into a remote valley among the Talkeetna Mountains. The route comes ever closer to Denali, at one point within just 40 rugged miles of the mountain. At Broad Pass the route opens up into a taiga plateau before pulling into the Denali Depot. The journey's final leg snakes through the Nenana River Gorge, past historic Nenana, and over the Tanana River.
The Alaska Railroad offers Adventure Class and GoldStar Dome service on the Denali Star route. Adventure Class passengers have comfortable seating with picture windows. Snacks and beverages are available for purchase from the bistro car and there is a shared dome viewing area. GoldStar passengers have reserved upper-level seating in a dome window car. The GoldStar ticket price includes meals (breakfast, lunch, or dinner depending on the leg), two adult beverages per person, and unlimited non-alcoholic beverages. Please visit our Adventure Class and GoldStar Dome pages to learn more.
The route is also served by the Wilderness Express and in part by the McKinley Explorer. Wilderness Express dome cars are pulled by Alaska Railroad locomotives and operate on the same timetable as the Denali Star train. The McKinley Explorer, which only runs between Denali Park and Anchorage, is a separate train service that runs on its own schedule.
You can use our Train & Bus Express Checkout to see availability and rates for all rail services plus the Park Connection Motorcoach. Want to see even more of Alaska by rail? Take a look at the Coastal Classic and Glacier Discovery train routes.
Alaska Railroad Denali Star Train