Trip Report: Kayaking Bear Glacier Lagoon
The team at Alaska Tour & Travel is an adventurous bunch, and we don't take recommending day tours and excursions lightly. That's why, when we're not manning the phones at our office in Anchorage, we like to go out and experience what our guests will. Next stop? Paddling among blue giants in Kenai Fjords National Park's Bear Glacier Lagoon.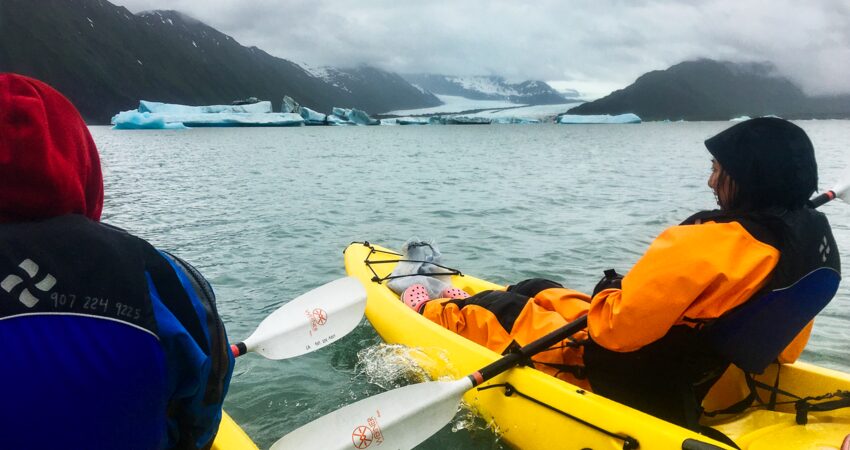 Our trip began on a typical Seward morning: Drizzly, with clouds in shades of grey skimming the green mountains around Resurrection Bay. With our standard waivers signed online the day prior, trip guide Libby cheerfully got down to the business of briefing and outfitting our small group of kayakers. We were each issued a dry suit, rubber clogs, dry bag, and waterproof case for our phones. Thus equipped, our group of six paddlers shuffled down the boardwalk and into the harbor to meet the boat.
Wait, those are Orcas
That boat, the Marmot Dreamer, is both our ride and the key to this whole adventure. It's a hybrid vessel built specifically to cruise in deep ocean and also through shallow rivers. As we load up, Libby explains that Bear Glacier pushed out a moraine and, as it receded over hundreds of years, left behind a lagoon. From that lagoon, a shallow stretch of riverway runs parallel to the moraine and into the ocean. This is the only access into the lagoon other than by air.
On this trip we got lucky, really lucky, and spotted a pod of orcas near Caines Head on the way out. Our captain Derek slowed the boat and cut the engines while we all clambered onto the stern to watch. Two more pods followed the first-a super pod, it's called-each gliding past, puffing the air with mist and lazily flicking their tales just a stone's throw away. Hopped up on the thrill of such a serendipitous sighting, we reluctantly continued southward.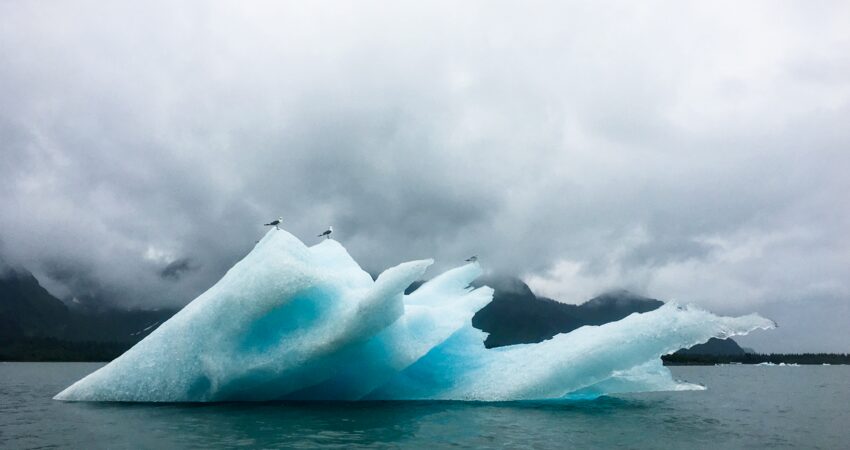 Thrill Ride to Chill Paddle
That moment of reluctance quickly faded as we rounded the rougher waters at Callisto Head and lined up for the river approach. Derek analyzed the mouth of the river, noting that morning's new obstacles of shifting sand and hunks of ice. With his cue to grab the nearest strap handle, we were quickly off again. He sped the boat into the shallow channel and deposited us, after a fast and thrilling ride, safely onto the lagoon beach.
Here the trip morphed from exciting to serene. We paddled out in our tandem sit-on kayaks, and within moments saw before us three miles of mirrored water studded with myriad icebergs. Libby expertly guided us through them, keeping us at safe distance always. Even from afar, some of those hulking chunks of ice were so massive that their size was difficult to comprehend: Maybe as big as semis, maybe the size of houses. They gleamed in the overcast light, shimmering every shade of blue from the deepest azure to palest powder. At one point, a sound like thunder ricocheted over the hushed lagoon and we all snapped around in time to catch the remnants of one icy slab calving away from another.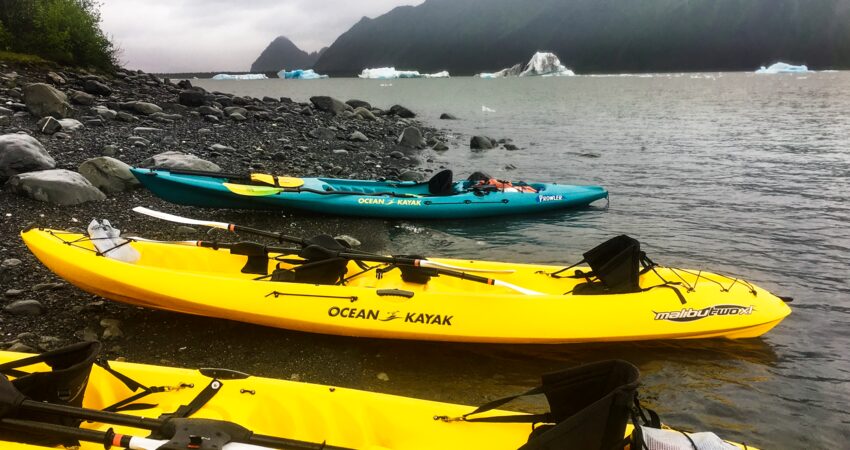 Even Better with Brownies
We took a brief break on an island about two miles into the lagoon, Libby treating us to warm drinks and scrumptious brownies. We'd smelled those brownies baking at the office that morning; a misty paddle in this remote place only made them more delicious.
Once again, finding ourselves reluctant, we left the lagoon behind to meet the Marmot and embark on our return trip back to Seward. It was, without doubt, one of those best Alaskan experiences: Chock full of moments of awe, mixed with a bit of adventure, and topped off with that sweet feeling of a day spent to its fullest.
Our Tips for Kayaking Bear Glacier Lagoon
Arrive at least 15 minutes early to fill out a general waiver. Every person who is paddling will have to complete one.
Wear warm base layers of wool or synthetic material. Skip the jeans this time. Wear warm, thick socks. There's no need to bring waterproof clothing, since your dry suit will keep the wet away. Also, skip the gloves, or at least don't plan on wearing them kayaking. When you arrive to the lagoon, your guide will give you neoprene mitts that attach to your paddle.
Bring a bottle of water, your camera (smartphone is best), and extra layers, but leave everything else (including your car keys) safely stashed at the tour operator's office.
The boat ride out can be a bit rough in that flat-bottomed Marmot Dreamer. Embrace the adventure, and keep hold of those straps!
Alaska Tour & Travel offers three daily Bear Glacier Kayaking trips. Call us at 800-208-0200 to book this unforgettable excursion for your next Alaska trip.
---
Posted in: Active Adventures, Off the Beaten Path, Trip Reports