Spotlight on Alaska's Wilderness Express Rail Service
Once a service only cruise line passengers could experience, today the Alaskan-owned and operated Wilderness Express welcomes groups and independent travelers alike. Those travelers are treated to some of the swankiest service on the rails. The Wilderness Express also offers both adult and child fares, making this premier rail option ideal for families traveling with children ages 2 to 11.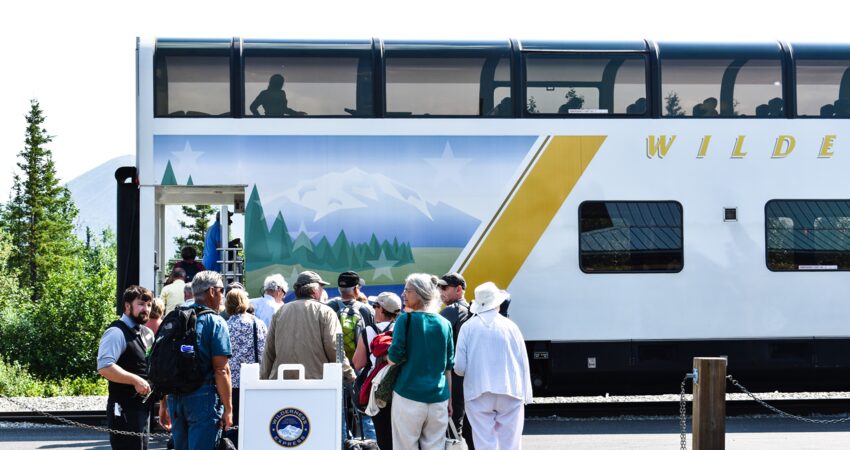 What exactly is the Wilderness Express? It's a private rail car service that travels with the Alaska Railroad's Denali Star train between Anchorage, Talkeetna, Denali, and Fairbanks. Check ins and luggage are handled the same as Alaska Railroad passengers, but Wilderness Express ticketholders enjoy their own spacious car and dedicated staff.
Ride in Style
Wilderness Express cars have two levels. A private dining room, small gift shop, and outdoor viewing platform are situated on the lower level, while all passenger seating and a full-service bar take up the upper. Any traveler with limited mobility or in a wheelchair can move between the rail platform and car levels via a lift and elevator.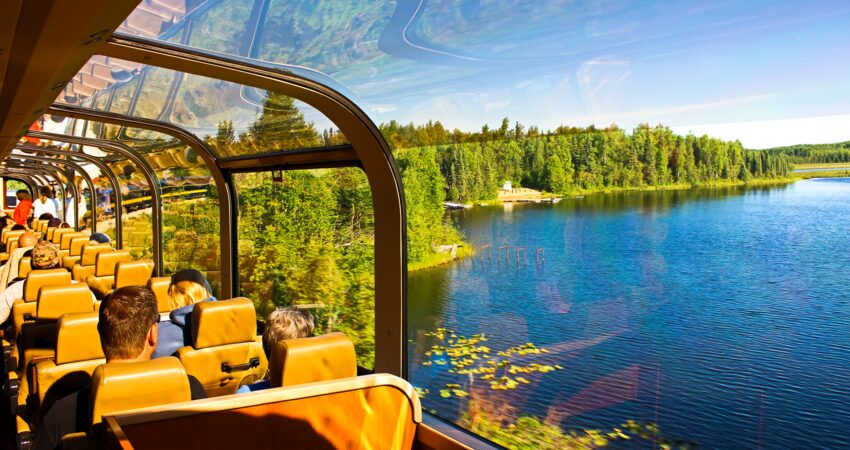 The Wilderness Express boasts the roomiest seating on the rails. Passengers enjoy reclining leather seats equipped with power outlets and tray tables. And yet, for as comfortable as those seats are, it's the dome windows that passengers adore. They run the entire length of the car and provide unobstructed views. You won't miss a thing, not a wildflower nor a mountaintop nor a soaring bald eagle, with windows like these.
Local Flavor
Most travelers seek authentic Alaskan food on their northern vacations. The Wilderness Express happily provides. Onboard chefs prepare fresh breakfast, lunch, and dinner dishes featuring several favorite local ingredients:
Organic birch syrup from Talkeetna and local reindeer sausage.
Fresh produce from the Matanuska-Susitna Valley.
Fresh caught crab, halibut, and Copper River salmon (when in season).
Alaskan-brewed craft beers and ciders plus locally roasted coffee.
How to Book
Wilderness Express tickets can be purchased online and over the phone exclusively through Alaska Tour & Travel. Check out our Train & Bus Express Checkout tool for rates and availability.
Much like the GoldStar Dome or McKinley Explorer train services, the Wilderness Express adds a great deal of value to a ride on the railroad. Treat yourself! It's a worthwhile upgrade from a standard Adventure Class ticket for at least one leg of your travel through Alaska.
---
At Alaska Tour & Travel, we specialize in building custom trips for every timeline, personality, and budget. If you'd like to have an Alaskan plan your Alaska trip, give us a call at 800-208-0200.
---
Posted in: Getting Around