Trip Report: Weekend Away in McCarthy and Kennicott
The team at Alaska Tour & Travel is an adventurous bunch, and we don't take recommending day tours and excursions lightly. That's why, when we're not manning the phones at our office in Anchorage, we like to go out and experience what our guests will. Next stop? History lessons and glacier treks in Wrangell-St. Elias National Park.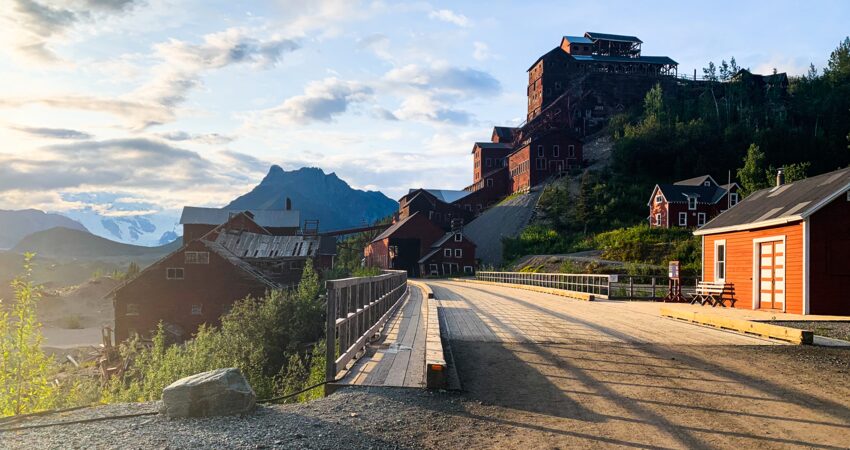 Well off the beaten path and requiring a bit of planning to get there, McCarthy and Kennicott are places not even Alaskans visit on the regular. And yet, like so much in Alaska, it's worth the effort. That's exactly what inspired our long weekend trip there last summer.
A Bit About McCarthy/Kennicott
McCarthy and Kennicott are two tiny communities within the massive Wrangell-St. Elias National Park. They were there first, built up and generally occupied since the early 1900s. When the park was established in 1980, the locals (who probably wouldn't mind being described as recluses and rebels) suddenly found themselves residing in a national park.
Along with its stunning natural beauty, the area is perhaps best known for the Kennecott Mine. Now a national historic landmark, the image of soaring red buildings set against a stark backdrop of mountains, moraines, and ice ranks among Alaska's most iconic.
Notice the two spellings of Kennicott/Kennecott? The Kennicott Glacier was named for Alaskan explorer Robert Kennicott. When rich copper deposits were discovered and an official mining company established above the glacier in the early 1900s, a clerical error resulted in the Kennecott with an "e" spelling for the mine.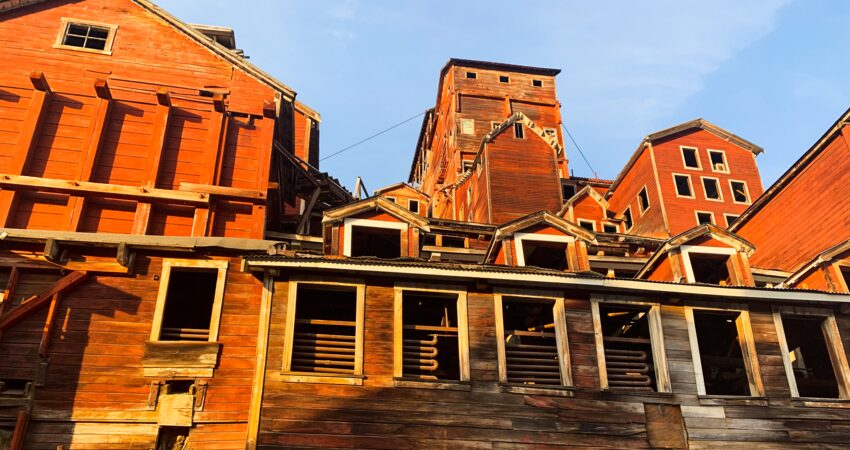 Infamous McCarthy Road
From Copper Center we made our way to the little town of Chitina (pronounced Chit-nuh) via the Edgerton Cutoff. Chitina was originally a railroad town and many of its historic buildings remain today. We stop in at the Chitina Ranger Station and then continue through a slim cut-through in a bluff and over the Copper River Bridge. The river, which is famous for its abundant salmon run, rages below in a silty brown torrent. Downstream we spot fish wheels circling in the swift current, a Native Alaskan tool in use on many of Alaska's waterways.
The bridge marks the beginning of the McCarthy Road, a 60-mile gravel "thoroughfare" with a reputation for rattling suspensions and popping tires. The road has undergone much improvement over the years and today we find it in fine shape, with the expected potholes and frost heaves manageable at a relaxed 25 to 30 MPH. The road follows much of the original train track traveled by the Copper River & Northwestern Railway. The track was built in four years with the sole purpose of hauling rich copper ore mined at Kennecott to a port hundreds of miles away in Cordova. Remnants of that railway remain today, and we happily stop at places like the Kuskulana Bridge and Gilahina Trestle to take pictures and explore.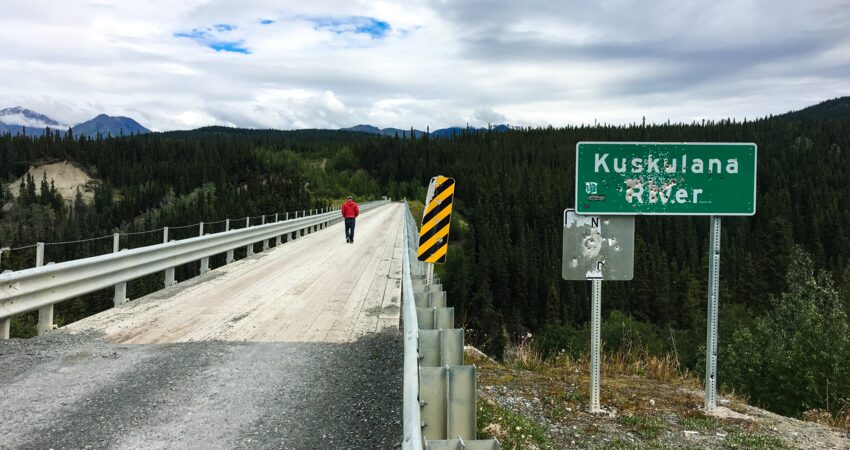 Kennicott Glacier Lodge
A few hours later we reach the end of the road. Quite literally, since the McCarthy Road dead ends at the Kennicott River. The river is wide and grey, a classic glacially fed stream tumbling through a debris field of loose rocks and silt. Upstream we see Kennicott Glacier and its massive moraine. Peaking out beyond these already sensational landmarks is the southeastern face of Mt. Blackburn, a 16,000-foot massif that's the tallest in the Wrangell Mountains.
We're staying at the Kennicott Glacier Lodge, a family-owned property a stone's throw from the copper mine. Because there's no public road access beyond the river we park in a designated lot about a quarter mile away, grab our bags, and head across the pedestrian bridge to our awaiting shuttle. It's about five miles from the bridge to the lodge. As we bump along the dirt road we're treated to glimpses of classic backcountry Alaska life: Roughhewn cabins, beat up old trucks, and flowers planted in every sort of container. Given the leadup we're surprised by the tidy elegance of Kennicott Glacier Lodge with its white and red paint gleaming and perennials flourishing.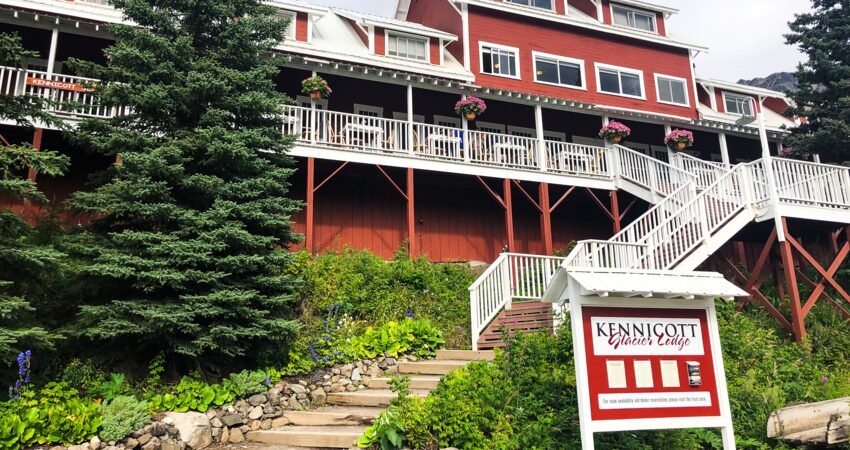 Exploring Kennecott Mine
Not wanting to waste a moment, we check in to our South Wing rooms and then head directly on to the Kennecott Mines National Historic Landmark visitor center just a few steps from the lodge.
To say that the mine buildings are impressive is an understatement. They're massive and sprawling, built up the mountainside and into it, with the concentration mill centerstage amongst a multitude of smaller structures that housed everything from a powerplant to schools and offices. The mine operated for 27 years before it was abruptly abandoned in 1938. Much of the historic site is largely as it once was, just with some 90 years of exposure to the elements. We spend the next few hours exploring this historic marvel before returning to the lodge for a scrumptious family-style dinner.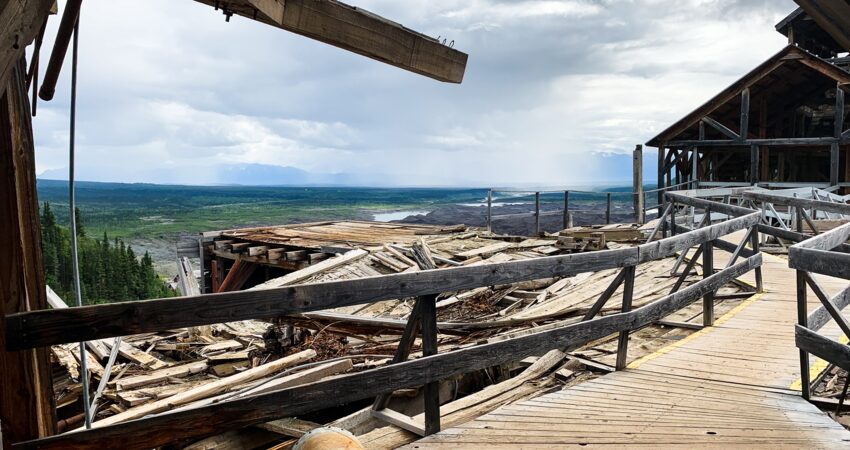 Guided Glacier Trekking
After an equally delicious breakfast we pack our backpacks with an extra rain layer and sack lunch and head out for a half-day guided hike to Root Glacier. It's about two miles one way to the glacier on an established trail, yet the time and distance flash by as we learn along the way from our guide. The talk turns to glaciers as we reach the Root's edge, don over-the-shoe crampons, and head out onto the ice. No matter how many times we've been on a glacier, the experience of crunching atop ancient ice feels like visiting another world.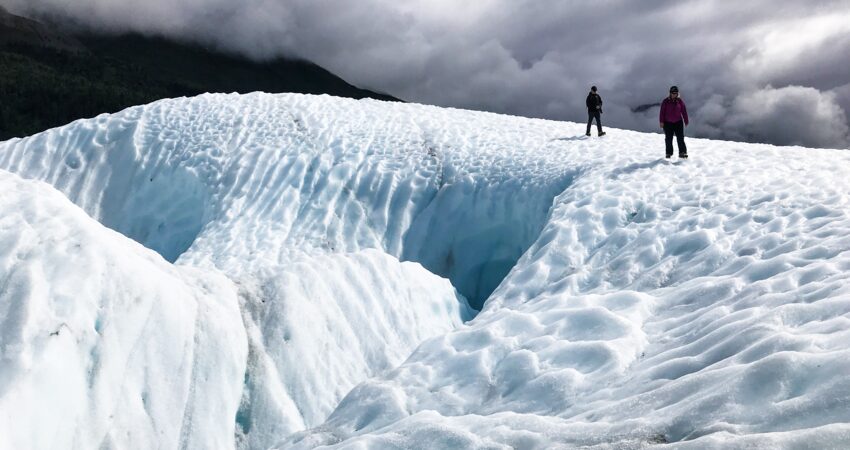 We're back in Kennicott by early afternoon and in time to catch a for-fee local shuttle into McCarthy. It's a tiny place, a single main street lined with a few businesses and homes, but one full of history and personality. After sharing the bar with a few locals who graciously indulge our questions of what life's like in McCarthy year-round, we shuttle back to the lodge for a final overnight in this big, beautiful, and remote corner of Alaska.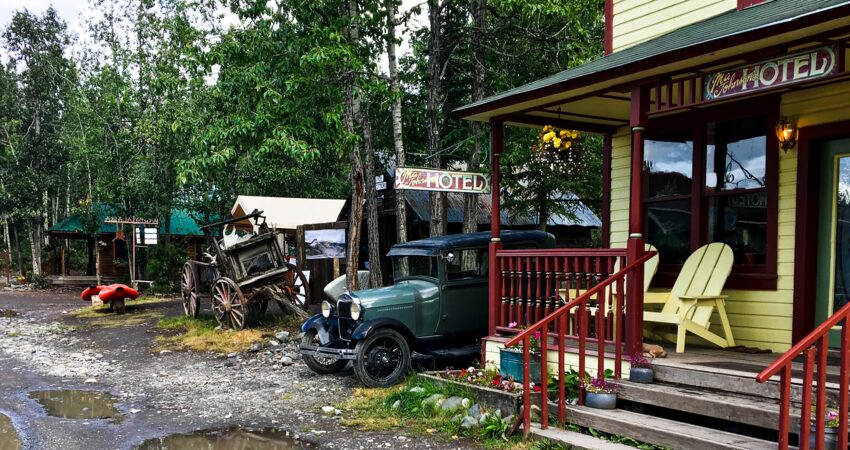 Our Tips for Visiting McCarthy & Kennicott
This area is remote and gas stations limited. Know your car's miles per tank and top off wherever you can. Also, only Alaska 4x4 rentals are permitted on the McCarthy Road (not standard rentals).
Stop at the Wrangell-St. Elias National Park Visitor Center in Copper Center to get the low down on current road conditions.
Spend at least two nights in McCarthy/Kennicott, three if you have the time. There's much to see.
Ready to go? McCarthy and Kennicott are featured in our Great Alaska Roadtrip and Ultimate Alaska National Parks tour packages and can be built into any of our custom rental car vacations.
---
At Alaska Tour & Travel, we specialize in building custom trips for every timeline, personality, and budget. If you'd like to have an Alaskan plan your Alaska trip, give us a call at 800-208-0200.
---
Posted in: Active Adventures, Alaska Parks, Off the Beaten Path, Trip Reports