Packing for Alaska may seem daunting, but you'll see here that it really comes down to staying warm, dry, and comfy so that you love every minute of your time here. We've taken our most popular itinerary, the Best of Denali & Kenai Fjords, and broken it down by special items you'll want to have available each day.
Day 1 - Arrive Anchorage
Your day to get settled in. All you need is a sense of adventure!
Day 2 - Train to Seward, Exit Glacier Naturalist Hike
Keep it easy and wear on the train what you'll wear on the hike, which is coordinated to begin when you arrive in Seward. This is a 2.5-mile, moderate hike on an established trail with some rocky, rooty sections.
Sturdy hiking shoes

- You'll need good tread with enough foot and ankle support to keep you steady on uneven terrain. Be sure to break them in before you land in Alaska.

Small day pack

- With water and snacks.

Rain jacket

- Bring a lightweight, packable rain jacket with a hood. You want something that fits comfortably over your warm layers. You'll likely wear this jacket throughout your Alaska trip.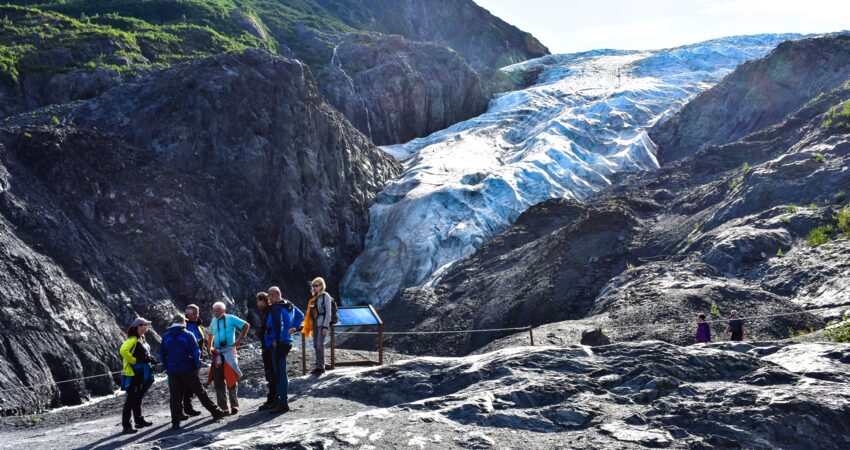 Day 3 - Kenai Fjords Glacier & Wildlife Cruise
Spend about six hours cruising through Resurrection Bay and beyond. Wildlife and glacier viewing aplenty.
Rain jacket, warm layers, hat, gloves

- It's often cool and misty on this cruise, so bring along everything you need to be comfortable spending as much time outside on the deck as possible. You can store items you don't end up needing at your assigned seat in the boat cabin.

Synthetic pants

- In case of sea spray or rain, synthetic pants will dry much quicker than anything made of cotton, especially jeans.

Shoes with rubber soles

- For moving on deck with ease.
Day 4 - Seward to Talkeetna
This is a travel day on the Park Connection Motorcoach.
Tablet/phone and charger

- There are power outlets to recharge your devices. Travelers often use this time to organize and edit photos.

Refillable water bottle

- You'll have a lunch stop in Anchorage, but bring onboard with you anything you might want to drink and snack on otherwise.
Day 5 - Denali Experience Scenic Flight
An unforgettable hour-long flight tour of the mountains and glacier surrounding Denali.
Sunglasses

- With all that snow and ice, it can bright up there.

Camera

- With a fully charged battery.
If you've upgraded to a flight with glacier landing:
Sturdy shoes

- The flightseeing operation will provide overboots for the glacier. Your hiking shoes from the Seward Exit Glacier hike would work well here.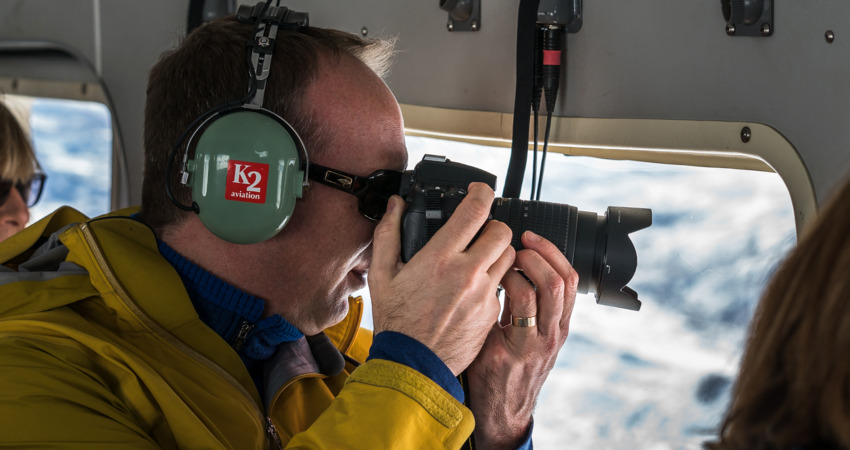 Day 6 - Denali Tundra Wilderness Tour
A guided bus tour along the Denali Park Road. About 5.5 hours of incredible scenery and (hopefully!) wildlife viewing.
Rain jacket and warm layers

- Yes, you'll probably need them here, too, in case it's cold or rainy at rest stops.

Filled water bottle, snacks

- The tour includes a snack box and water, but bring anything else you'd like to eat or drink along the way. There are no concessions in the park.

Telephoto lens

- If you have one, this is the time to use it.
Day 7 - Denali Rafting Wilderness Run
A scenic morning float with a few mild Class III rapids at the end.
Warm base layers

- You'll wear a Gore-Tex dry suit on the water, so wear base layers that you can comfortably layer underneath. A fleece sweatshirt or long johns are good options. This isn't a very splashy raft trip, but anything you wear on the outside of the dry suit may get wet.

Wool socks

- Bring an extra pair.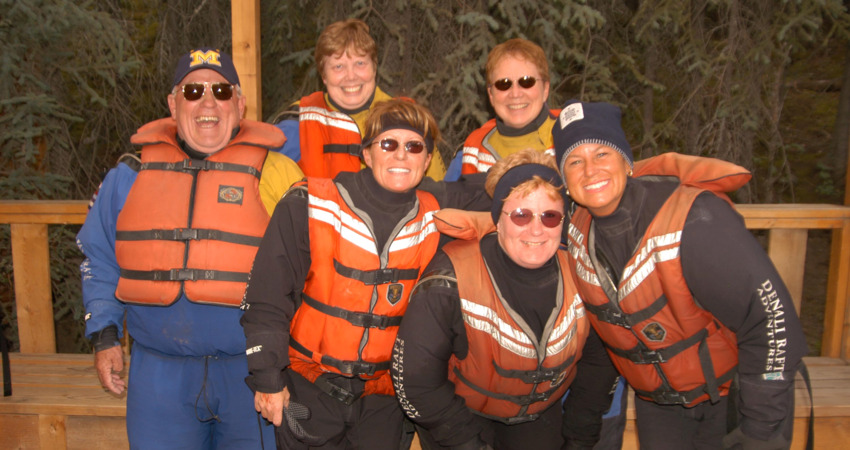 Other Things to Keep in Mind
Travel days

- You won't have access to your luggage while you're on the train or Park Connection Motorcoach, so pack your day pack with anything you might want on the way. Snacks, water, camera, jacket, book, etc.

Dress for the elements

- You're in Alaska, you'll want to be outside! Stay comfortable on your excursions by packing synthetic, breathable clothes that dry quickly. As for jeans, save those for dinner. We're not fancy here.
---
More Like This: Pack Your Layers for Alaska
---
At Alaska Tour & Travel, we specialize in building custom trips for every timeline, personality, and budget. If you'd like to have an Alaskan plan your Alaska trip, give us a call at 800-208-0200.
---
Posted in: Local Advice