Things To Do in Cooper Landing
Nestled along the Kenai River a small town known as "The Gem of the Kenai Peninsula."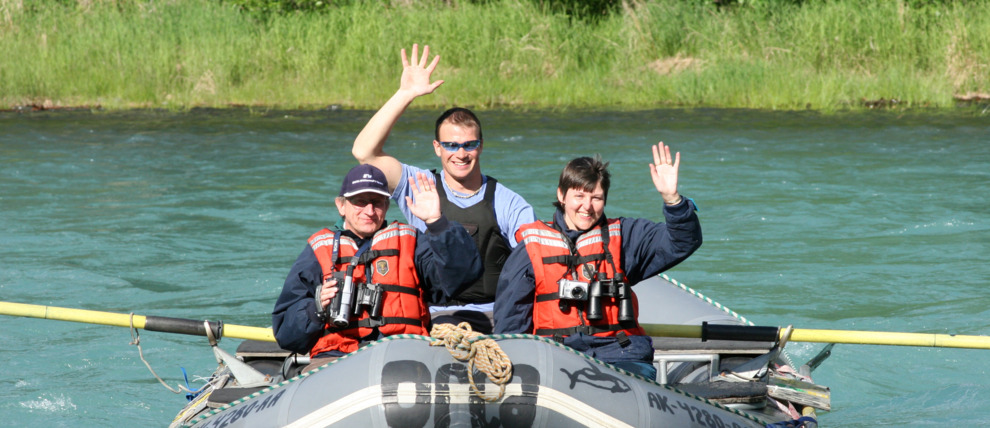 Things To Do in Cooper Landing
Nestled along the Kenai River a small town known as "The Gem of the Kenai Peninsula."
Things To Do in Cooper Landing
Nestled along the Kenai River a small town known as "The Gem of the Kenai Peninsula."
Cooper Landing Things To Do
Straddling the confluence between the aqua-blue Kenai River and Kenai Lake, Cooper Landing was originally settled by gold miners in the 1800s. Today the new gold is salmon. In the summer it becomes a boom town for fishermen. Many visitors are looking to "strike it rich" with salmon and trout through the many fishing trips offered here, as the Kenai River fishery is known as one of the most productive.
Many Cooper Landing visitors choose to take a Kenai River Scenic Float, which passes through the beautiful Kenai Wildlife Refuge. Wildlife is plentiful here, so observing bears, eagles, waterfowl, and even beavers is common while on the river.
After a day full of adventure in Cooper Landing, check out Rafter's outside deck at the Kenai River Princess Lodge for an amazing view and a cool brew, cocktail, or dinner.
Other travelers take to nearby trails like Russian Falls or Cooper Lake. The Cooper Landing Chamber of Commerce can assist walkers and hikers with a map to local trailheads and provide necessary bear-aware information.
An excellent way to learn more about this community of around 375 year-round residents is to stop by the Cooper Landing Historical Society and Museum, where time appears to stand still as visitors view a replica of a typical homestead from the town's earliest days.
Thanks to its proximity to Seward, Cooper Landing also makes for an excellent base camp for exploration of Kenai Fjords National Park.
Cooper Landing is best explored independently. Alaska Tour & Travel can assist you with a rental vehicle out of Anchorage to fit your group size.
Things To Do in Cooper Landing