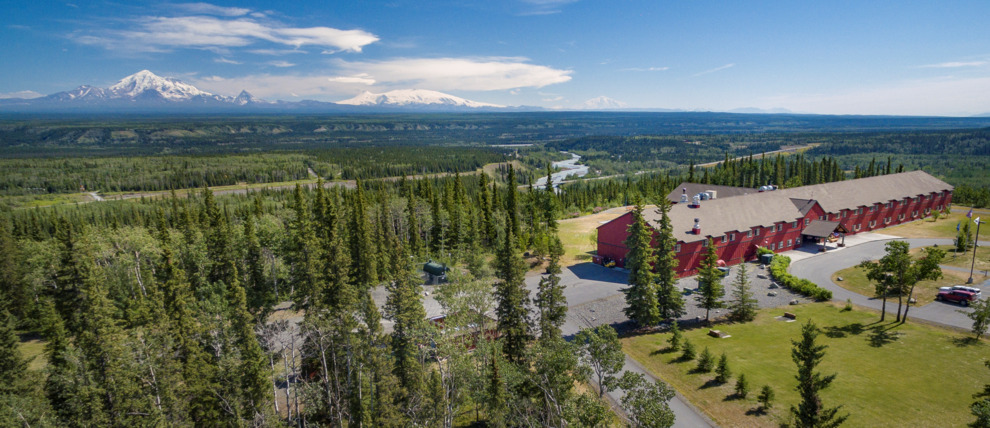 Copper Center Lodging
Overnight in a remote lodge overlooking Wrangell-St. Elias National Park.
Copper Center Hotels
Lodging options are limited in Copper Center, but luckily one of those few options is the Copper River Princess Wilderness Lodge. This expansive property offers panoramic views of Wrangell-St. Elias National Park. A spacious patio, welcoming lobby with grand windows, and two onsite restaurants make this an excellent choice on the edge of America's largest national park.
The lodge provides free shuttles to the national park visitor center a few miles away. There are also several onsite activities plus excursions that depart directly from the lodge, including a raft trip on the Copper River.
Many travelers overlook tiny Copper Center in their eagerness to reach Valdez a few hours farther down the Richardson Highway. And yet, a stop in this community can yield big rewards for those looking to learn more about life in rural Alaska.
Since the creation of Wrangell-St. Elias National Park and Preserve in 1980, Copper Center has served as an access point for visitors entering the park. Be sure to stop at the park's visitor center for an in-depth look at the area's geography and cultural traditions of the Ahtna Athabascan people who have resided here for more than 5,000 years.
Located at the confluence of the Klutina and Copper rivers, the latter known for its high return of sockeye salmon, the city was originally a winter village for Ahtna families. During the gold rush of the late 1800s, Copper Center's roadhouses were integral to travel and basic commerce as the Alaska territory moved into the 20th century.
Several activities are available from the Copper River Princess Lodge, including rafting trips, fishing, hiking, and day cruises. Wrangell-St. Elias National Park is a popular flightseeing destination, especially near Kennecott, a former mining town inside the park near McCarthy. Copper Center is also a great base for a drive into McCarthy along the famously rough McCarthy Road. Note, if you plan to drive on gravel roads like the road to McCarthy, consider one of our 4x4 car rentals, as most other car rental options restrict driving to paved highways.
Copper Center is two hours north of Valdez, where visitors can explore tidewater glaciers on a Columbia Glacier day cruise.