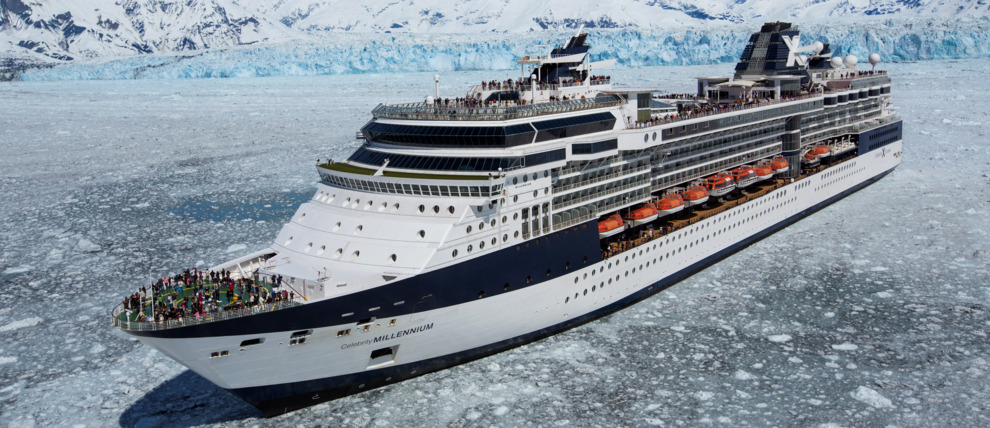 Celebrity Glacier Route SB Hubbard Glacier
A curated cruise itinerary through the fjords, inlets, and protected passages of southeast Alaska.
Celebrity Cruises Glacier Route from Seward
Every cruiser, from parents to kids, to couples to solo adventurers, will find daily wow-worthy experiences on this classic seven-day Alaska cruise route. Touch the ancient ice of a glacier. Glide among the tops of Sitka spruce trees on the world's longest zipline. Witness whales breach and bald eagles hunt. It's all possible in Alaska. The full itinerary includes two days at sea, and four ports of call all within the stunning setting of Alaska's pristine southeast coast. The Hubbard Glacier Cruise Southbound route is operated by both Celebrity and Royal Caribbean cruise lines.
Daily Itinerary & Sailing Dates
Below you will find a detailed itinerary for this cruise, and further down the page, a list of sailing dates. Keep in mind that these details can change, and sometimes there are variations in a cruise itinerary between sailing dates. So be sure to request a cruise quote using the links below or with our cruise finder, and we will send you the most up to date information for the particular voyage you are interested in.
Seward sits along the northern arc of Resurrection Bay, one of the hundreds of glacially carved fjords that define Alaska's iconic southern coastline. The seven-day route embarks from this scenic locale.
On this first full day at sea, passengers come face to face with the largest tidewater glacier in North America. The Hubbard Glacier's grandeur is astonishing. It towers 350 feet above the waterline and spans a surprising seven miles across.
Often called the most scenic capital in the United States, Juneau is also the only state capital not accessible by road. Activities abound in this small city, from whale watching in Stephens Passage, to ice climbing on the mighty Mendenhall Glacier, to indulging in a food and brews tasting tour.
Much of charming downtown Skagway is a designated National Historic District showcasing stories of adventure and hardship from the Klondike Gold Rush. The town is also surrounded by abundant natural beauty best explored by guided hike, kayak, high-speed boat, or vintage train tour.
Long an important Tlingit fishing and hunting ground, Icy Strait Point's abundant wildlife makes this port call unique. Cruise passengers can explore the coast closer via small boat or zodiac, or venture inland by ATV or jeep.
The cruise route winds its way through the southernmost waters of Alaska's Inside Passage for a final port call in Ketchikan. Travelers fascinated by Alaskan native heritage will find rich Tlingit, Haida, and Tsimshian cultures in this colorful port town.
The itinerary winds down with one last full day at sea. The route takes cruiser into Canada's Inside Passage, affording lingering views of dense coastal forests bordered by deep blue water and distant glacier-capped peaks.
The southbound Alaska cruise route concludes in the beautiful Canadian harbor city of Vancouver.