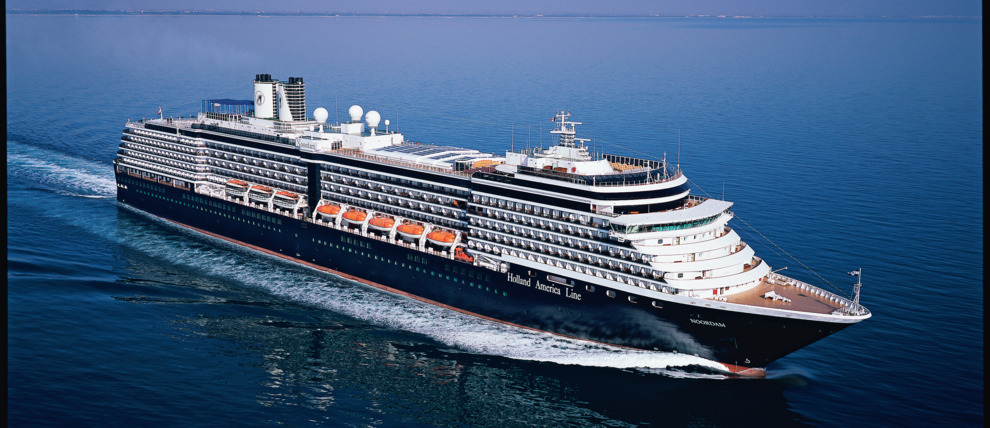 Holland Glacier Discovery SB Glacier Bay
A cruise to Vancouver offering a week of immersion in Alaskan culture, history, wildlife, and natural wonders.
Holland America Glacier Discovery Cruise from Seward
The Glacier Discovery Southbound route departs out of Whittier, making it quite the complimentary cruise for travelers spending time in southcentral Alaska before sailing. The itinerary is built with those visitors in mind, starting with two full days on board to settle in and unwind. The first of those days is spent at sea, and the second within the extraordinary setting of Glacier Bay National Park and Preserve. Three unique ports of call and a day cruising through the Inside Passage cap off this this seven-day southbound route. Holland America exclusively runs this itinerary.
Daily Itinerary & Sailing Dates
Below you will find a detailed itinerary for this cruise, and further down the page, a list of sailing dates. Keep in mind that these details can change, and sometimes there are variations in a cruise itinerary between sailing dates. So be sure to request a cruise quote using the links below or with our cruise finder, and we will send you the most up to date information for the particular voyage you are interested in.
Situated off Prince William Sound, Whittier is a perfect introduction to the coastal scenery, small port towns, and local Alaskan flavor to come over the next seven days.
Relax aboard and indulge in the ship's many amenities during this first full day at sea, but be sure to take some time outside for epic views of Hubbard Glacier.
Only two cruise ships are permitted entry to Glacier Bay National Park and Preserve per day. Seven tidewater glaciers flow into the protected bay, some with faces more than 200 feet high. The most active, Johns Hopkins Glacier, drops enormous masses of ice into the water in an unforgettable display of glacial calving.
Discover the rowdy, adventurous, and downright courageous stories of gold rushers who came through Skagway in search of riches in the Klondike. Favorite shore excursions include a ride on the White Pass Railway and climbing trip on the Chilkoot Trail.
With the 1,500-square-mile Juneau Icefield to the east, and the beautiful Gastineau Channel bordering to the west, Juneau has an abundance of scenic wonders to explore. Venture out on a guided kayak trip to see the sights from the water, or board a floatplane for a glacier viewing by air.
For this last port call of the cruise, embrace the town's (and Alaska's) fishing heritage on a halibut or salmon fishing excursion. Those who enjoy fish on their plate rather than on the line will find several local eateries serving up specialty seafood recipes along the walkable waterfront promenade.
Bid farewell to Alaska on this final day at sea. The ship leaves the winding straits and fjords of the Inside Passage of Alaska before slipping into the protected deep-water channel between mainland British Columbia and Vancouver Island.
Cruisers disembark at the full-service cruise terminal within the Canada Place event center in downtown Vancouver.