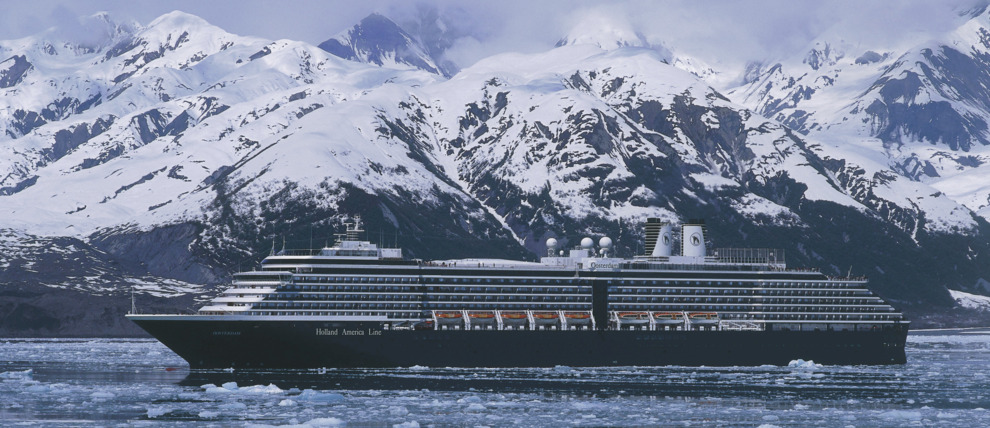 Holland Inside Passage with Hubbard Glacier
Cruise Alaska from the southerly tip of the Inside Passage to the towering toe of Hubbard Glacier.
Holland America Inside Passage Hubbard Glacier from Seattle
With a unique order of events, this Inside Passage with Hubbard Glacier route fits in plentiful time to enjoy the onboard cruise experience while still featuring four distinct ports of call. Along the way, the route visits Juneau, Sitka, Ketchikan, and Victoria. The Sitka port is a special highlight, as fewer cruises stop in this historically significant town. The cruise also spends several daytime hours making its way through the Inside Passage, and one exceptional day visiting Hubbard Glacier. Holland America Line offers this roundtrip itinerary from their homeport of Seattle.
Daily Itinerary & Sailing Dates
Below is a general itinerary for this cruise. Note that there are variations in the exact cruise itinerary between sailing dates. Ports of call, route, and details will vary. Be sure to request a cruise quote using the links below or with our cruise finder to see the most up to date information for the particular voyage you are interested in.
Explore the Space Needle, Pikes Place Market, or Pioneer Square before a late afternoon departure from the Smith Cove Cruise Terminal just north of downtown.
Day 2
Cruising Pacific Ocean
Bound for Alaska's Inside Passage, the first full day of the voyage is spent at sea.
The route leaves open ocean for the protected water of the Inside Passage, cruising through a labyrinth of channels bordered by green mountains. The cruise has its first port call in Juneau. The busy town is neighbor to nearby Mendenhall Glacier and the busy whale feeding area of Stephens Passage.
The superlative Hubbard Glacier awes passengers on this second full day at sea. The itinerary includes several hours along the glacier's miles-long face. It can put on a spectacular show, sometimes calving house-sized hunks of ice into the frosty bay water.
The route continues south to Sitka. Plentiful excursions and sites to see easily fill the full day on shore. Passengers can explore Sitka's unique past as a Russian colony, resonant native heritage, and wildlife-rich waters and forests.
"Alaska's First City" welcomes cruisers on their last Alaskan port of the itinerary. Ketchikan is known for its outstanding saltwater fishing. Many local shops specialize in delicious cured salmon, a perfect souvenir.
Passengers enjoy a leisurely day on board before heading to shore once more for an evening in Victoria. The capital city is charming, channeling its British roots through architecture, gardens, and distinctly English eats.
The roundtrip Alaskan cruise route concludes back in Seattle.