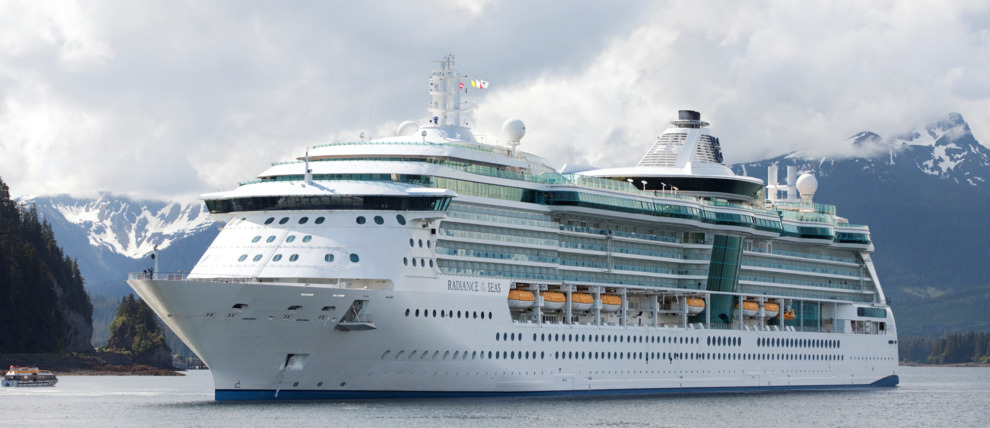 RCCL Glacier Route NB Hubbard Glacier
Zipline, whale watch, and climb a glacier one day, then watch tidewater glaciers calve the next.
Royal Caribbean Cruises Glacier Route from Vancouver
The Hubbard Glacier Cruise Northbound itinerary offers cruisers the perfect blend of time on board and time in port. The route features two full days at sea and four ports of call throughout Alaska's Inside Passage. There are plentiful opportunities to see wildlife, view glaciers by water and land, experience some of the state's eclectic history, and absorb the sheer scale and natural beauty of southeast Alaska. Favorite route highlights include a visit to Icy Strait, a remote port within an abundant whale feeding habitat, and a day cruising alongside North America's largest tidewater glacier. Royal Caribbean offers this seven-day Alaska cruise itinerary.
Daily Itinerary & Sailing Dates
Below you will find a detailed itinerary for this cruise, and further down the page a list of sailing dates. Keep in mind that these details can change, and sometimes there are variations in a cruise itinerary between sailing dates. Be sure to request a cruise quote using our Cruise Finder or through the links below, and we will send you the most up to date information for the particular voyage you are interested in.
Surrounded by the natural beauty of British Columbia and filled with all the things that make a city fun, Vancouver is an ideal jumping off point for an Alaskan cruise.
Upon leaving Vancouver, the route proceeds through the Inside Passage on a scenic and relaxing full day at sea.
Enjoy a warm welcome to "Alaska's First City" on the inaugural port call of the voyage. Take an excursion in town or venture by boat or plane to the dramatically beautiful Misty Fjords, a national monument with 3,000-foot granite cliffs that rival the well known walls of Yosemite.
Once the site of a salmon cannery, the redeveloped Icy Strait port is now a quaint grouping of colorful shops and boardwalks. Save time for the epic ZipRider. With a thrilling 1,300-foot overall drop from mountaintop to beach, it's the world's longest zipline.
Located at the northernmost edge of the Inside Passage, Skagway gained rather rowdy notoriety as a launching point for gold rushers heading north to the Klondike in 1897. Take a tour to Dyea to hike a few miles of the famous Chilkoot Trail, and then enjoy a leisurely self-guided walk among downtown Skagway's many shops, cafes, and historical sites.
Bordered by 1,500 square miles of icefields, untouched peaks, and the sweeping Gastineau Channel, Juneau is abundant in scenic wonders. Take a guided hiking or kayak tour to the Mendenhall Glacier or board a whale watching boat bound for nearby Stephens Passage.
On this final day at sea, the route swings through Disenchantment Bay and up to the massive face of Hubbard Glacier. The tidewater glacier flows over 75 miles from the icefields around Mt. Logan in Canada's Yukon Territory.
The Hubbard Glacier Cruise Northbound route concludes in Seward, the misty coastal town at the end of Resurrection Bay and convenient jumping off point for an Alaskan land tour.