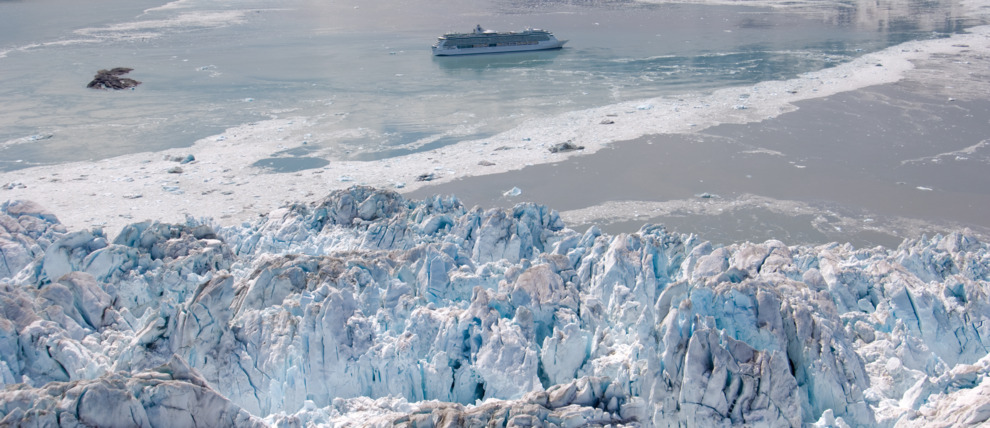 RCCL Inside Passage with Tracy Arm Fjord
An Alaska cruise that has it all: Glaciers, wildlife, lively port visits, and equally lively onboard amusements.
Royal Caribbean Inside Passage Tracy Arm Fjord from Vancouver
Arranged for cruisers who value time on board as much as time on shore, this Alaskan voyage comfortably balances three ports of call with three days at sea. Two of those days at sea are spent within the stunning scenery of the Inside Passage. Protected by barrier islands, the calmer waters through the passage provide safe and thriving habitats for myriad marine wildlife. It's also a smooth place to cruise, making life on board all the more enjoyable. When on shore, a range of excursions ensures that each day is memorable. The route is offered by the Royal Caribbean Line out of Vancouver.
Daily Itinerary & Sailing Dates
Below you will find a detailed itinerary for this cruise, and further down the page a list of sailing dates. Keep in mind that these details can change, and sometimes there are variations in the cruise itinerary between sailing dates. So be sure to request a cruise quote using the links below or with our cruise finder, and we will send you the most up to date information for the particular voyage you are interested in.
Recreation abounds in this bustling Canadian city, giving passengers good reason to arrive a few days before the itinerary begins.
Amidst a backdrop of glassy water and mountainous shores, passengers spend their first full day of the voyage at sea.
Culture, history, wildlife, and quintessential coastal scenery come together in this little Alaskan town. It's a fitting first port of call. Visit the Alaska Raptor Center, walk the mile-long Totem Trail, or explore the town's Russian Orthodox churches.
Spend the early morning hours absorbing the majesty of the Tracy Arm and Sawyer Glacier before heading out on a busy afternoon in Juneau. If whale watching is a must, then Juneau is the place to do it. Numerous afternoon excursions visit the busy whale feeding grounds outside the town in Stephens Passage, often combining a boat tour with a separate trek to Mendenhall Glacier.
Today you'll stay on the ship, but within view of one of Alaska's most impressive tidewater glaciers. Bundle up and plan to spend midday on the deck.
Remaining on board until final disembarkation, passengers are treated to up-close views of one of southeast Alaska's stunning tidewater glaciers. With luck, it'll put on an exciting show as huge hunks of ice calve off its face with thrilling splashes, cracks, and crashes.
Day 7
Cruising Pacific Ocean
The route continues south for a final day at sea.
Passengers disembark at Vancouver's central Canada Place cruise terminal.