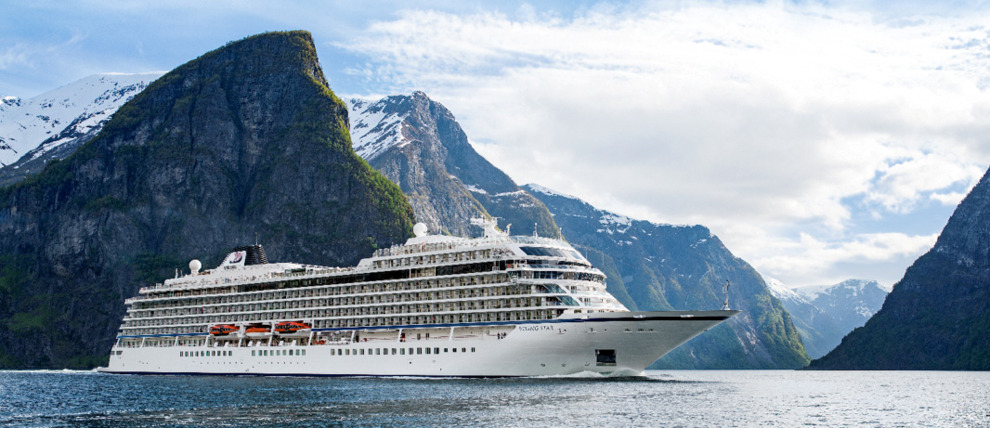 Viking Glacier Route NB Hubbard Glacier
Spend more days discovering the charm and wonder of southeast Alaska.
Viking Cruises Glacier Route from Vancouver
A 10-day itinerary exclusive to Viking Ocean Cruises, the Glacier Route Northbound offers a comprehensive exploration of southeast Alaska. This is an eventful voyage designed for those who live to discover new landscapes, people, and culture. The cruise visits seven distinctive ports of call. There are bountiful opportunities to learn about and experience the full breadth of Alaska's heritage and natural history in these towns within their natural settings. Special highlights include visits to Sitka and Valdez, two Alaskan communities rarely visited by cruise ship, and an overnight in port at Seward.
Daily Itinerary & Sailing Dates
Below you will find a detailed itinerary for this cruise, and further down the page a list of sailing dates. Keep in mind that these details can change, and sometimes there are minor variations in a cruise itinerary between sailing dates. So be sure to request a cruise quote using the links below or with our cruise finder, and we will send you the most up to date information for the particular voyage you are interested in.
Enjoy this cosmopolitan city's many offerings, from its multicultural neighborhoods, to its beautifully tended greenspaces, before embarking from the Canada Place Cruise Terminal in Vancouver Harbor.
Spend the first full day of the voyage at sea. The route follows the western Canadian coast toward Alaska's Inside Passage.
Step ashore for the trip's first port call in Ketchikan, a colorful town built on the site of a centuries-old Native Alaskan fishing encampment. Explore the local culture on a guided tour of the Saxman Native Village, view the area's abundant wildlife via flightseeing excursion, or head onto the water again for a day trip to the impossibly beautiful Misty Fjords National Monument.
Although rarely visited by cruise ships, Sitka is a culturally rich community rooted in both Tlingit and Russian heritage. Discover this heritage and learn a bit more about Sitka's resident wildlife on a multi-stop shore excursion. A visit to the Sitka National Historical Park, either independently or with a group, is a must.
Tour Alaska's state capital for the day, taking time in town for a foodie tasting tour before heading farther afield for a hike, sled dog ride, or flightseeing trip to one of the small city's many surrounding glaciers.
Enjoy the rowdy charm of an Alaskan boom town at its best. Stampeders with their hearts set on striking it rich on the Klondike rushed through Skagway in the late 1800s, turning the settlement into a city overnight. Experience a bit of that past on the historic White Pass Railroad.
Natural wonders are abound at Icy Strait Point. The privately-owned port is situated near an especially rich whale feeding ground on the northern coast of Chichagof Island. Embrace the surroundings at this port call by kayaking, ziplining, hiking, or whale watching.
After several busy days on shore, relax on the ship for a day at sea. On the way north, the route circles through Disenchantment Bay for an afternoon alongside Hubbard Glacier.
Enter the picturesque Prince William Sound and dock for the day in Valdez. The harborside fishing community is humble, but it is surrounded in all directions by some of the most dramatic mountains in the southeast. While in port see the town and its extraordinary natural setting by water, road, or air.
The voyage has reached its ultimate destination, but passengers enjoy a full day ashore and a final overnight on board while in port. Spend the shore day on a catamaran cruise into Kenai Fjords National Park or go behind the scenes at the Alaska SeaLife Center for a hands-on marine wildlife experience.
Disembark at the Seward Cruise Ship Terminal. Easily connect to Anchorage via the Park Connection Motorcoach or Alaska Railroad.