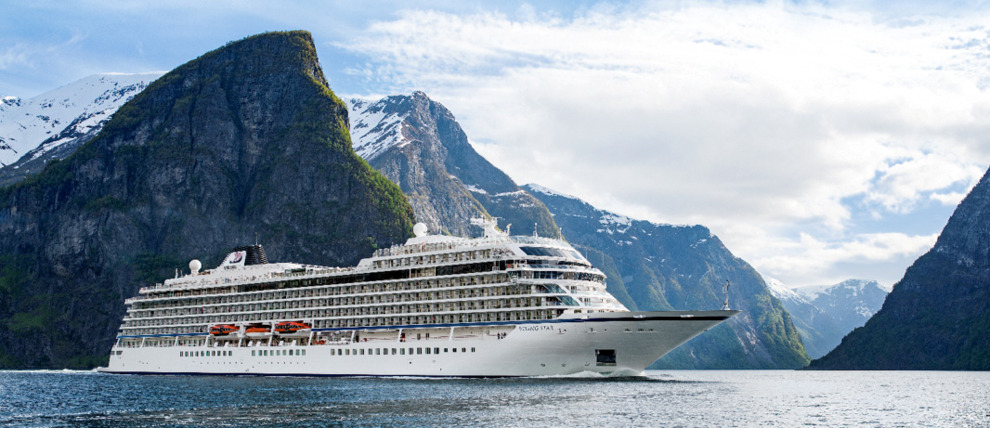 Viking Glacier Route SB Hubbard Glacier
A lengthier Alaskan cruise route designed to immerse, engage, and inspire.
Viking Cruises Glacier Route from Seward
See the full spectrum of Alaska's culture and wildlife, its colorful past and modern frontier spirit, and-above all-its extraordinary natural beauty on this extended cruise itinerary. The 10-day route takes passengers beyond where other cruisers go, making port calls in quieter Valdez and Sitka along with stops in four of southeast Alaska's most famous coastal towns. The itinerary also includes two scenic days at sea and an overnight in port at Seward. The Glacier Route Southbound itinerary is operated exclusively by Viking Ocean Cruises, the newest cruise line to sail Alaska's rugged and serene southeast.
Daily Itinerary & Sailing Dates
Below you will find a detailed itinerary for this cruise, and further down the page a list of sailing dates. Keep in mind that these details can change, and sometimes there are minor variations in a cruise itinerary between sailing dates. So be sure to request a cruise quote using the links below or with our cruise finder, and we will send you the most up to date information for the particular voyage you are interested in.
Arrive in Seward and settle in for the start of this 10-day voyage. The ship overnights in port.
Spend the day ashore in the lush mountains surrounding Seward or venture into the deep blue water of Resurrection Bay for a taste of the sort of scenery and wildlife sightings to come over the next several days.
The cruise heads south along the coast of Alaska, through Prince William Sound, and into the small harborside community of Valdez for the route's first port call. Head inland on a shore excursion to Wrangell-St. Elias National Park, the United States' largest national park, or explore by kayak the calved icebergs in the Valdez Glacier lake.
On this full day at sea, cruisers spend several scenic hours observing the massive Hubbard Glacier, the largest tidewater glacier in North America. The glacier flows from the mountains of Canada's St. Elias range. Those towering peaks provide a stunning snowcapped backdrop to the icy blue Hubbard.
Icy Strait Point is a privately-operated cruise port built on the site of an old salmon cannery. Fully refurbished, it now houses a small museum, shops, and restaurants. Whales are sometimes seen feeding from the beach at Icy Strait, but for an even better chance to see these graceful summer residents, opt for a whale watching tour while in port.
History abounds at this Gold Rush town, as do opportunities to explore its surrounding forests, lakes, and mountains on an active outdoor adventure. Skagway boomed in the late 1800s when optimistic stampeders spilled through its streets on their way north to the rumored riches of the Klondike River.
When the air is clear, take the tram up Mt. Roberts for views of docked cruise ships and the Gastineau Channel. Here, cruisers can also see for the first, and likely only time on their cruise, the dainty wildflowers and wild blueberry patches of the high alpine ecosystem.
First a Tlingit fort and then a Russian outpost, Sitka's spotted history perhaps best represents southeast Alaska's unique cultural heritage. Explore this legacy while in port on a guided day tour that combines a visit to the Sitka National Historical Park with equally fascinating visits to one of the area's local wildlife sanctuaries.
Enjoy a full day at the route's final port of call. Ketchikan is a fisherman's town, so cruisers who have been waiting for an opportunity to fish for Alaska famous wild salmon or halibut should take full advantage here. The small community, which despite its comparatively slight footprint is Alaska's fourth largest city, is also home to a fantastic collection of totem poles.
A relaxed day at sea invites passengers to enjoy their ship's plentiful amenities and the pretty views of Canada's Inside Passage.
The route concludes at the Canada Place Cruise Terminal in downtown Vancouver.