Where Are the Best Places to See Wildlife in Alaska?
Alaska is undoubtedly one of the paramount wildlife viewing destinations in the world. You know this, it's probably one of the reasons you want to visit! The average Alaskan traveler almost always has the "Big 5" in mind: Moose, bears, caribou, Dall sheep, and wolves. Though they can be seen in a variety of locations, there are specific destinations that provide the best chance.
Moose
Moose frequent a wide variety of habitats throughout the state. It's as common to see one ambling around the streets of Anchorage as it is to see one in the brushy front country of Denali National Park. The nice part about trying to find a moose is that the opportunities are vast, and the moose are plenty.
While you're in Anchorage, take a walk in Kincaid Park, or go on a guided bike tour on the Tony Knowles Coastal Trail.
Traveling on the Alaska Railroad? Look for moose in Potters Marsh on the way to Seward and in the hayflats heading out of Anchorage toward Talkeetna.
Even if your days are numbered and you still haven't spotted a moose, don't give up. Visitors often spend a whole trip unsuccessfully searching for a moose, only to see one on the drive to the airport.
If you are lucky enough to spot a moose, give it plenty of space. They are very big, very quick, and oftentimes very territorial. Especially a moose with young calves.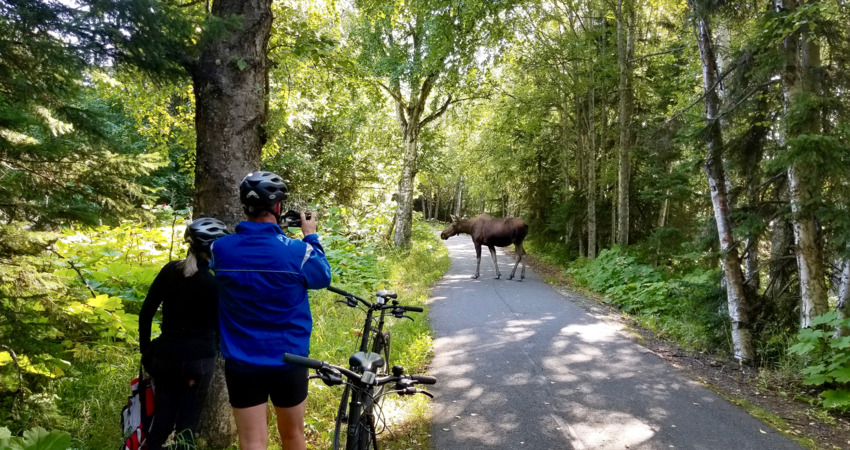 Bears
Bears are iconic to Alaska. Black bears are typically found in forests. Brown bears live in the coastal areas of Alaska and along waterways where salmon spawn. Grizzly bears, which are the same species as brown bears but differentiated based on their geographical territory, are commonly seen in inland and mountainous areas of Alaska.
Remember that no matter where you are in Alaska, you're in bear country. Being bear aware is critical for the safety of you and Alaska's bears alike.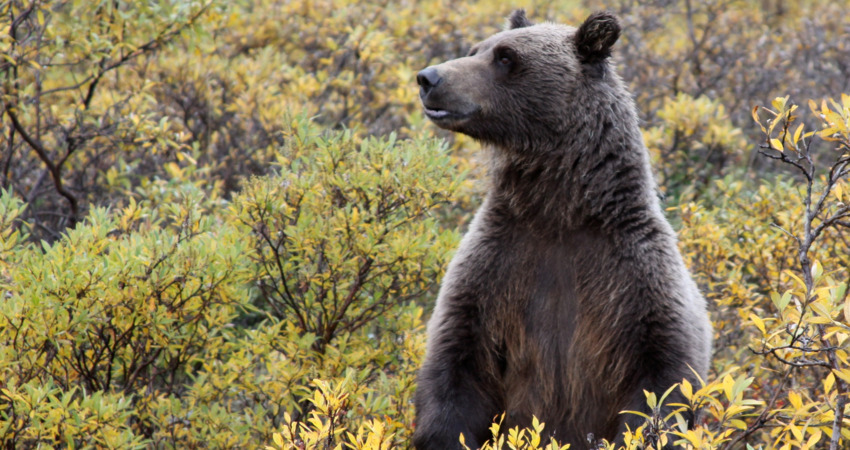 Caribou
Perfectly adapted to tundra travel, vast herds of caribou range throughout Alaska. They migrate thousands of miles in a season through some of the harshest territory in the state.
Small herds of caribou travel through Denali National Park. Keep an eye on open hillsides and in wide river valleys. Sometimes you'll even see them on the park road.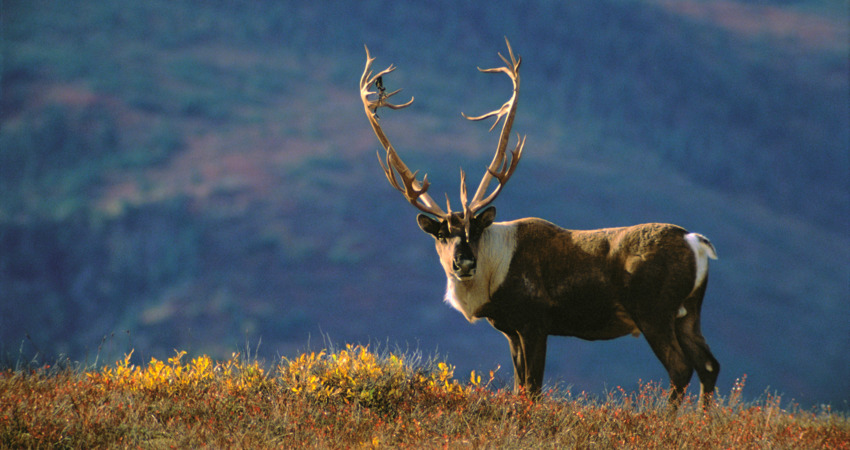 Dall Sheep
Nimble Dall sheep live their lives on steep mountains, bright white dots against dark cliffsides in summer and virtually invisible against snow in winter. Binoculars or a telephoto lens are musts to get a good view.
One of the very best places to see Dall sheep is along the Seward Highway leaving Anchorage. Look to the cliffsides along the north side of the road, especially near the McHugh trailhead and Bird Point.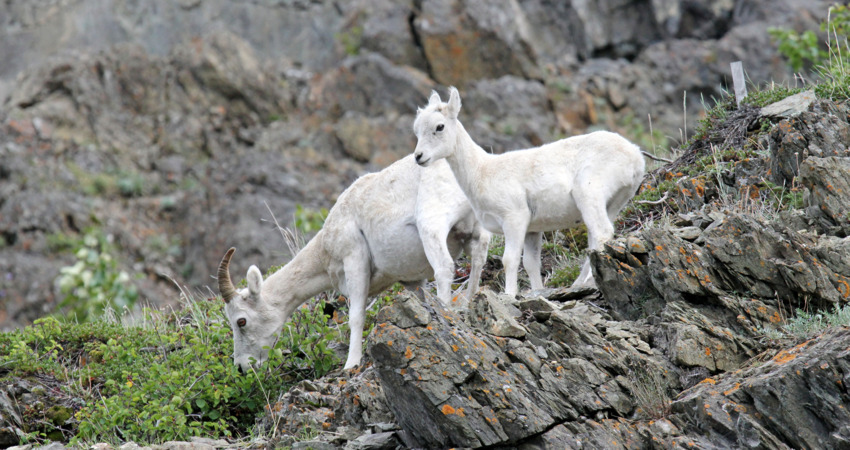 Wolves
The most elusive of Alaska's "Big 5" wildlife. Stealthy and shy, often ranging well beyond the reach of roads, it's a rarity to see them in the wild.
Your best bet to see wolves is on a Denali Park bus tour. Just know that it's uncommon. Also, don't be tricked: Coyotes in Alaska are quite big and often mistaken for wolves!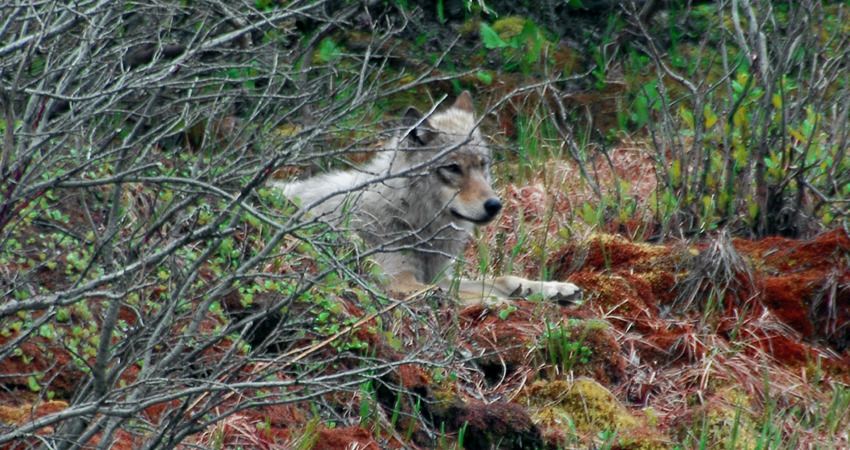 Guaranteed Wildlife Viewing
Outside of seeing these incredible animals in the wild, the Alaska Wildlife Conservation Center is most visitors' best opportunity to see wildlife. There are resident bears, wolves, moose, and many others. They were all at one time found orphaned or injured before being brought to the AWCC. Because they can't be reintroduced into the wild, these animals live permanently in the center's large habitats.
---
At Alaska Tour & Travel, we specialize in building custom trips for every timeline, personality, and budget. If you'd like to have an Alaskan plan your Alaska trip, give us a call at 800-208-0200.
---
Posted in: Favorite Places, Local Advice