Three Roads Rental Car Companies Ban in Alaska (Except Alaska 4x4)
There's enough to see along Alaska's well-traveled main highways to fill more than one Alaska vacation. But Alaska's road system offers plenty more past where the pavement ends, and only Alaska 4x4 vehicle rentals provide access to those otherwise banned highways. Curious where you can take a backroads-approved rental? Read on.
Denali Highway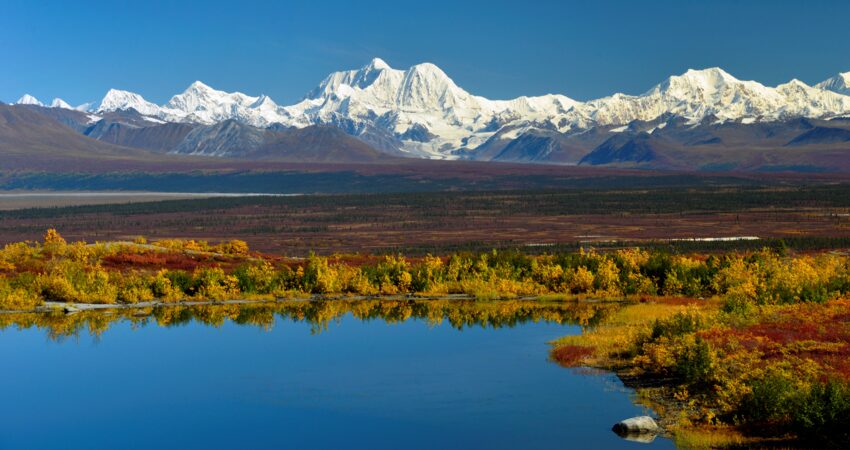 The Denali Highway name can be confusing. It neither reaches Denali, nor does it have highway-like characteristics (like pavement). When it was completed in 1957, it really was the only road to access Denali National Park, and in Alaska, words like "highway" are relative. But the beauty of this road certainly isn't.
The Denali Highway winds gently through high tundra in an arc below the eastern Alaska Range. Well above the tree line, unimpeded views make the road a landscape photographer's delight. At times, you can see three of Alaska's mightiest mountain ranges, plus glaciers, broad lakes and kettle ponds, creeks, rivers, and hillsides that light up with alpenglow.
With patience and binoculars, you can also view wildlife along the highway. Early Athabaskan tribes frequented Tangle Lakes, which mark the highway's midpoint, for its abundant animals. Even today, the 50,000-strong Nelchina Caribou Herd still makes its annual migration through the area. The Denali Highway is especially beautiful during this fall migration (late August through September) as wild blueberries, dwarf birch, and alders burn bright with autumn color.
Tip: Take the Denali Highway to connect from Valdez or Copper Center to Denali National Park.
McCarthy Road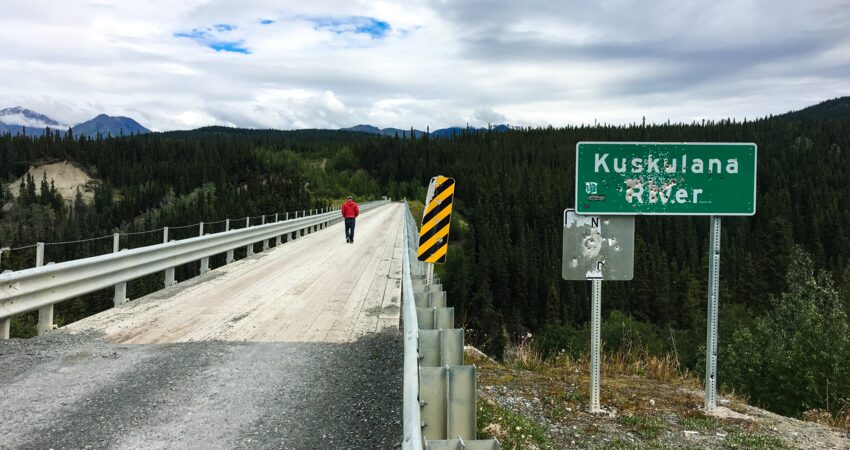 The McCarthy Road is legendary for its poor condition. Teeth-rattling washboard, random railroad ties, actual iron spikes, frost heaves, and muddy washouts all but guaranteed a flat tire (at best) or a breakdown (not unlikely) in the road's early days. But we'll let you in on a little secret: It's not that bad at all now.
The McCarthy Road follows the old Copper River and Northwestern Railway, a 1900s-era route constructed to bring copper ore from the Wrangell-St. Elias mountains to port in Cordova. The copper mines were abruptly abandoned in 1938 and the track turned over for use as a public highway a few years later.
The road today is full of that history, starting with the Million Dollar Bridge crossing the roiling Copper River. Further on, the road crosses the single-lane Kuskulana River Canyon Bridge. It was built in the winter of 1910 so that crews could avoid the raging glacial melt water of summer. A similarly impressive engineering fete can be seen through the trees about halfway down the road. Rail crews originally built the 890-foot-long Gilahina River Trestle in just eight days.
The McCarthy Road ends at the Kennicott River. To visit the town of McCarthy and access the road to Kennecott mine, visitors must park here, cross a footbridge, and either walk, bike, or take a shuttle the half mile into town.
Tip: Driving the McCarthy Road makes for a fun day trip from the Copper River Princess Lodge, but another option is overnighting at the Kennicott Glacier Lodge. While you're on your way in, stop at the Wrangell-St. Elias Chitina District office for a map and a chat about the road's current conditions. Also, there's no gas in Chitina or McCarthy, so fuel up at Kenny Lake on the way in.
Dalton Highway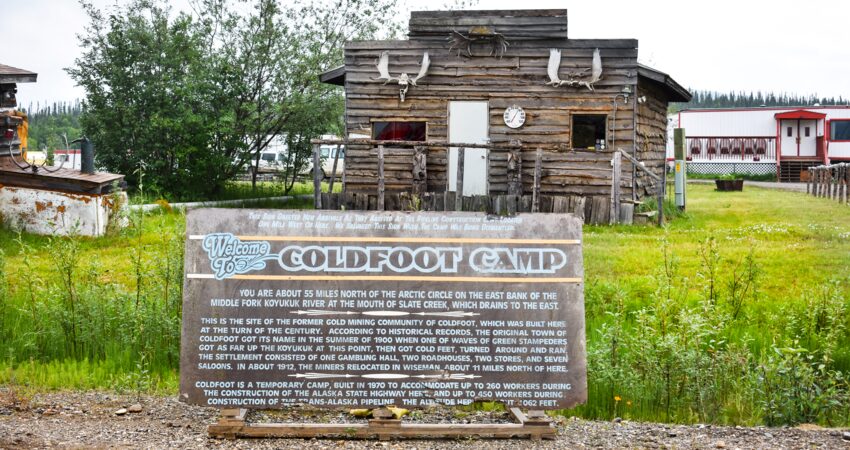 The longest and most isolated of our banned highways, the Dalton Highway is the only road to the oil fields of Prudhoe Bay. The highway was built in tandem alongside the Trans-Alaska Pipeline in 1974, and while it is frequented by supply trucks (most locals call it the Haul Road), driving it is a true backcountry experience.
There are just three outposts along the Dalton: Coldfoot, Wiseman, and Deadhorse. Altogether, these towns have a booming permanent population of about 55. The gravel road linking them alternates between long, flat stretches dotted with frost heaves or potholes and steep grades through mountain passes.
Tip: Driving the Dalton is a serious undertaking. Take a shorter day excursion from Fairbanks to see the Yukon River (about 60 miles one way), or continue to the Arctic Circle sign (an additional 60 miles one way). You can also drive a part of the road on a guided Arctic Circle tour.
Tips for Driving Alaska's Gravel Highways
---
More like this: The Top 5 Best Drives in Alaska
---
At Alaska Tour & Travel, we specialize in building custom trips for every timeline, personality, and budget. If you'd like to have an Alaskan plan your Alaska trip, give us a call at 800-208-0200.
---
Posted in: Getting Around, Local Advice, Off the Beaten Path