It's happened to all of us, even locals. You're out in Alaska, having fun, only to have the weather turn from pleasant to less than ideal when you weren't prepared. Maybe you get chilly or damp and just like that you're more focused on that than beautiful Alaska and its many treasures.
When you're coming all this way, every moment should be fun. You can make that happen by packing smart so you're prepared for any Alaskan adventures that come your way.
Keys to Packing for Alaska
We've narrowed them down to four.
Layers. You'll hear this a lot: Bring your layers! That just means pack base layers (lightweight, moisture wicking), middle layers (warm, synthetic, not too bulky), and outer layers (wind and waterproof). Alaska's average summer temperatures range from 40 to 80 degrees Fahrenheit, so you'll stay comfortable in that wide range by wearing layers interchangeably on your trip.
Synthetics (or Wool). Jeans are fine for relaxing inside, but for day tours in the elements pack synthetic clothing. Think hiking pants, polyester fleece, and quick-dry tops. Quality wool garments also work well. Avoid cotton, which is not insulating when wet and takes a long time to dry.
Rain Jacket. Speaking of getting wet... Alaska can be rainy, especially in coastal areas from Homer or Seward to Juneau and Ketchikan. A good rain jacket with a hood is a must. Be sure you can wear it comfortably over your layers.
Footwear. With luck you'll find yourself in mud, on rocks, maybe even glacial ice. It means you're really experiencing Alaska! To get around more easily, pack a comfortable pair of sturdy athletic or hiking shoes with good traction. Consider treating them with a waterproofing compound before you leave home.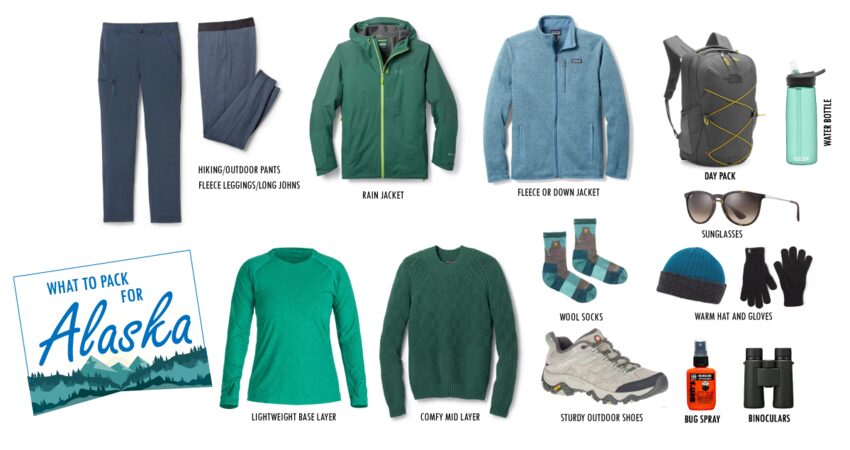 The Ultimate Alaska Packing List
Let's say you're packing for a seven-day Alaskan vacation. On your trip you'll travel by railroad and motorcoach, visit Seward and Denali National Park, and have a few active adventures (kayaking in Resurrection Bay, a guided naturalist hike near Denali). Aside from the usual essentials like toiletries, pjs, and personal items, here's a good place to start:
2 short sleeved tops
2 lightweight, long-sleeve synthetic tops
2 warm fleece or wool tops
1 pair fleece leggings or long johns
2 pair hiking pants
Warm jacket
Rain jacket
3 pair wool socks
1 pair hiking shoes
Warm hat and gloves
And a few other must-haves:
Sunglasses (especially if you're taking a glacier tour)
Camera with additional memory cards and batteries
Day pack
Reusable water bottle
Binoculars
Insect repellent (in case you encounter mosquitoes)
Medications (some of our remote areas will not have pharmacies)
Swimsuit (if you plan on using the hotel pool or hot tubs where available...or if a polar plunge is on your Alaska bucket list)
Eye mask (for sleeping when it's light out all night!)
One last thing. If you've booked a package through Alaska Tour & Travel, be sure to read through your trip itinerary. If individual tours you'll take have suggestions on what to bring, it will be noted there.
---
More Like This: What to Pack for Alaska: Itinerary Edition
---
At Alaska Tour & Travel, we specialize in building custom trips for every timeline, personality, and budget. If you'd like to have an Alaskan plan your Alaska trip, give us a call at 800-208-0200.
---
Posted in: Local Advice