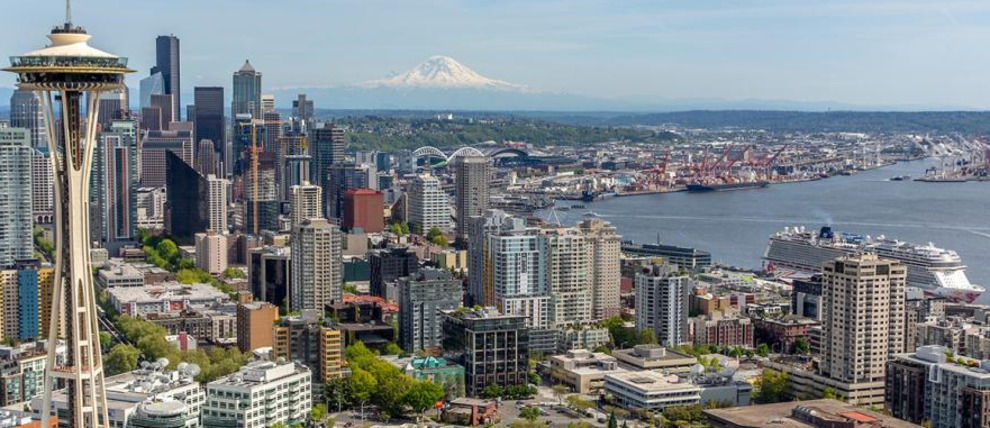 Seattle Washington
A launching point for Alaskan adventures since 1897.
Seattle Washington
The unique connection between Seattle and Alaska is 120 years in the making. The relationship was forged when gold was discovered in the Klondike in 1897. Enterprising business owners in Seattle recognized their small city's unique opportunity to profit from the news. They began touting Seattle as the best launching point for prospectors heading north. Outfitters and grocers popped up, selling everything from Alaska-tough footwear, to portable pantry kits, to the thousands of stampeders who flooded the city. Even though most prospectors were ultimately unsuccessful, Seattle's link to Alaska was cemented.
Today thousands of Alaska cruise passengers flow north through Seattle to embark on Alaskan adventures of their own. Norwegian Cruise Lines, Holland America Line, Princess, Celebrity, and Royal Caribbean sail seven-day Alaska Inside Passage cruises out of Seattle. These cruises offer roundtrip itineraries. For one-way routes that can be paired with an Alaska land package, look a bit farther north for Alaska cruises from Vancouver.
There are two cruise terminal stations in Seattle. The Bell Street Pier Cruise Terminal at Pier 66 is the most convenient to downtown Seattle, with Pikes Place Market, the Space Needle, and the Seattle Aquarium about 10 to 15 minutes away by foot. The Smith Cove Cruise Terminal at Pier 91 is located on the north end of Seattle's waterfront. Downtown Seattle is best reached by taxi or ride share, but nearby there are several walking paths and parks. The Magnolia neighborhood shopping and dining district is also within walking distance.
A special perk for cruisers returning to Seattle is Port Valet, a complimentary luggage transfer service. At the end of their voyage, enrolled passengers have their luggage taken to the airport and checked to their final ticketed destination (on participating airlines). This lets passengers enjoy Seattle without hauling their bags. Plus, when arriving to the airport, there's no waiting in the bag drop line.