Far from a basic way to get from one place to the other, riding the Alaska Railroad is An Experience. But getting to that point can require some logistics. We've answered your burning questions about the Alaska Railroad, from making reservations to checking in to what to expect onboard.
Routes
Let's start with routes. In the summer the Alaska Railroad runs 470 miles from Seward to Fairbanks. That distance is segmented into three primary routes:
Coastal Classic - Connecting Anchorage and Seward with a stop in Girdwood.
Denali Star - Connecting Anchorage and Fairbanks with stops in Talkeetna and Denali Park.
Glacier Discovery - Out-and-back from Anchorage to the Grandview Whistle Stop with stops in Portage, Whittier, and at Spencer Glacier.
Both the Coastal Classic and Denali Star run only one northbound and one southbound train per day. This means you can't ride both routes on the same day.
Q: I want to go from Anchorage to Denali Park, stay there a few days, and then head down to Seward. How can I do that without having to overnight in Anchorage on the way to Seward?

A: Ride the Denali Star train to Denali Park, and then take the Park Connection Motorcoach from Denali Park to Seward. The Park Connection is the only service offering same-day travel between those two destinations, plus you'll get to see all new scenery on the way.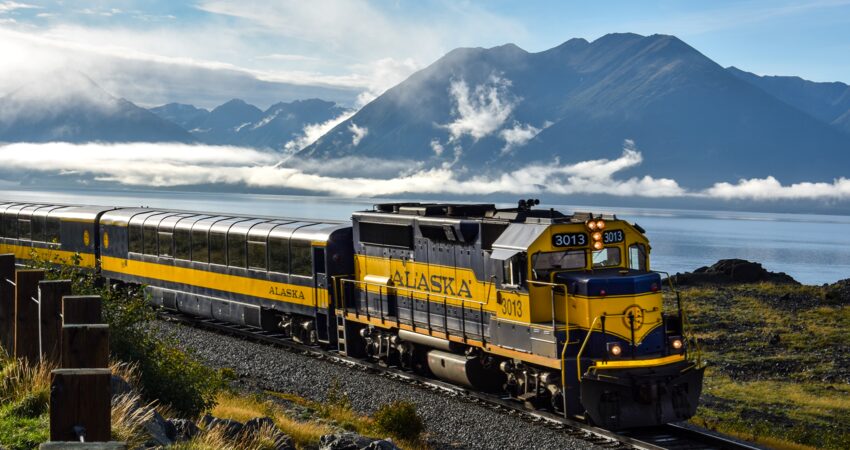 Tickets
When you go to book tickets you'll see there are two classes of service to choose from on the Coastal Classic and Denali Star routes:
Adventure Class - Standard class with reserved seating. Passenger cars have large picture windows and overhead storage racks. Access to a cafe car and shared dome observation area. Side note, the Glacier Discovery route only offers Adventure Class seating.
GoldStar Dome - Premium class with upper-level dome car seating. Access to a private outdoor viewing area. Meals and beverages included in the ticket price, including two adult beverages for passengers over 21.
You'll purchase tickets by leg. For example, if you're looking to ride the train from Anchorage to Denali with an overnight stop in Talkeetna, you'll purchase the Anchorage to Talkeetna and Talkeetna to Denali legs separately. We make this easy to do via the Train & Bus Express Checkout. Any questions come up when you're booking? Give us a call to talk to a reservation agent.
Q: I can afford to splurge on GoldStar one way. What route/segment do you recommend?

A: Dome seating on the Coastal Classic between Anchorage and Seward, either southbound in the morning or northbound in the evening, is especially worthy of the scenery. These seats tend to sell out quickly, though. Book early!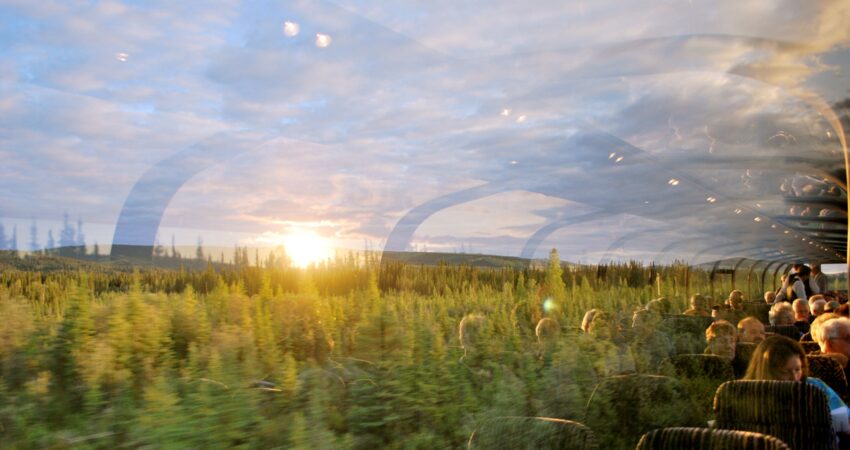 Checking In
Checking in for your train trip is a little like checking in for a flight. You'll need to have your reservation confirmation and everyone in your group 18 and older must show a photo ID. From here you'll be given your seat assignment and boarding pass. The exact process varies by location:
Departing from Anchorage or Fairbanks

- Check in one hour prior to departure at the ticket counter. In Anchorage you'll drop luggage in the designated area outside the depot. In Fairbanks you'll drop luggage at the ticket counter. Boarding begins 20-30 minutes before departure.

Departing from Seward, Talkeetna, or Denali Park

- Check in 30-45 minutes prior to departure at the ticket window. Be ready to board when the train arrives.

Departing from Whittier, Portage, or Girdwood

- Be at the stop 30 minutes prior to departure and check in with the conductor when the train arrives.
A couple things to keep in mind as you check in. First, aside from Anchorage and Fairbanks all depots are outdoors with limited cover. Keep a rain jacket and warm layer handy. Second, stay flexible. These trains go through some wild country and often slow for wildlife, so you may find they don't always operate exactly on time.
Q: How many bags can I check?

A: Passengers are allowed two checked bags plus one carry on, with dimension and weight restrictions like those of airlines. Just like on a plane, you won't have access to your checked luggage while under way. Be sure that you have everything with you that you need for the ride. This includes your fully charged phone and/or camera, extra layers, and medications.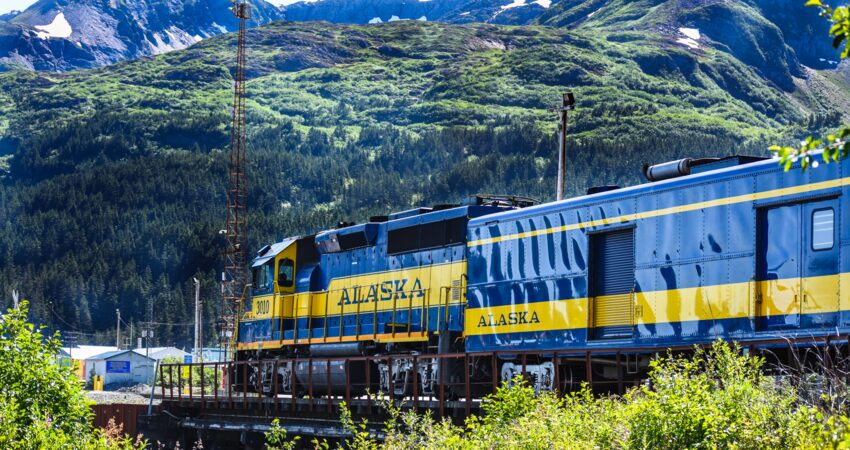 Onboard
By the time you hear that "All Aboard!" call you should be onboard and settled into your reserved seat. Chances are you won't stay there for too long, since part of the fun of riding the Alaska Railroad is wandering throughout the train itself. Some highlights:
Find the best viewing areas

- If you're in Adventure Class, visit the shared dome observation car. If you're in GoldStar, spend some time on the outdoor platform. Be sure to cycle through so your fellow passengers get a peek.

Grab a bite to eat

- To-go snacks, sandwiches, and beverages are available for purchase in the café car. The train is cashless, so be sure to bring a debit or card onboard. If you're in the GoldStar dome you'll have access to a full-service dining room. Depending on the route your breakfast, lunch, and/or dinner is included in your ticket price.

Chat with a train guide

- Onboard guides provide narration along each route. They are specially trained and a wealth of information, don't hesitate to ask questions.
Q: Are there good photo opportunities along the way?

A: Yes! There are plenty. Ask the train guides for advice and keep an ear out for announcements about upcoming views.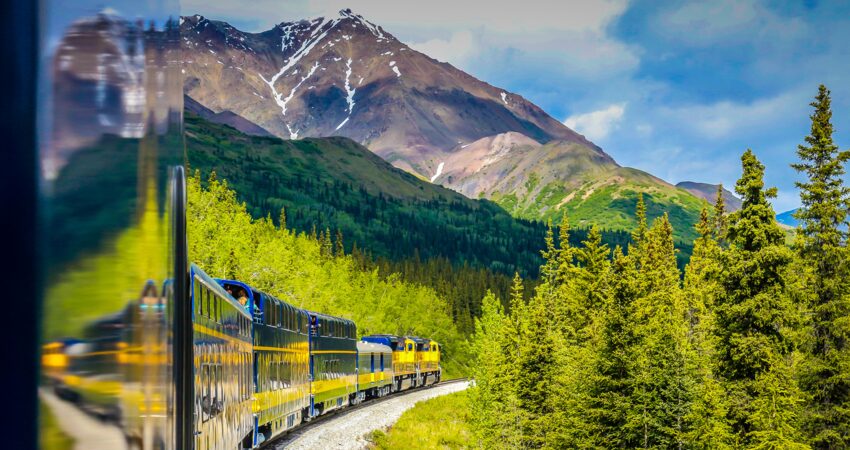 ---
Helpful Links: Train & Bus Express Checkout, Alaska Railroad Schedule, Alaska Railroad Rates
---
At Alaska Tour & Travel, we specialize in building custom trips for every timeline, personality, and budget. If you'd like to have an Alaskan plan your Alaska trip, give us a call at 800-208-0200.
---
Posted in: Getting Around