There's no doubt about it: You can't come all the way to Denali National Park without taking a hike here. Such natural beauty, such vast landscapes, such abundant flora and fauna. It's best experience on your own two feet. Here are some of the best Denali Park hikes to pick from.
Easy Denali Park Hikes
Savage River Loop
2 miles roundtrip
The Savage River Loop trailhead is about 15 miles into the park, the farthest you can drive on your own without a special permit. From the parking area the established trail wanders along the river into a shallow, rocky saddle between two mountains. After about a mile you'll cross a bridge, then loop back along the opposite side of the river. Keep an eye out for ground squirrels, marmots, and birds along the way.
Tip: Parking at the Savage River trailhead is very limited. Go early in the morning to secure a spot, or take the Savage River courtesy shuttle.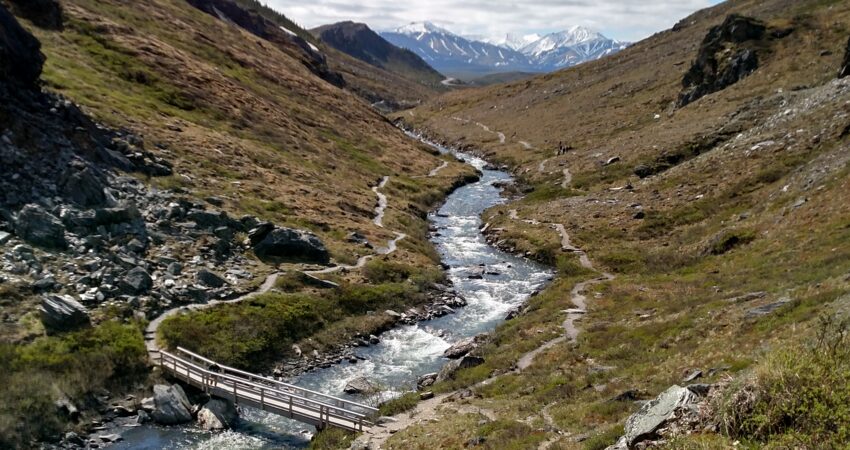 Mountain Vista Loop
Less than a mile roundtrip
Less a hike and more a walk, this easy loop circles through the park's telltale stubby spruce and alongside a braided river. The trail is wide with packed gravel that's sufficient for strollers or wheelchairs. Interpretative signs along the way tell tales of Denali's first tourist visitors.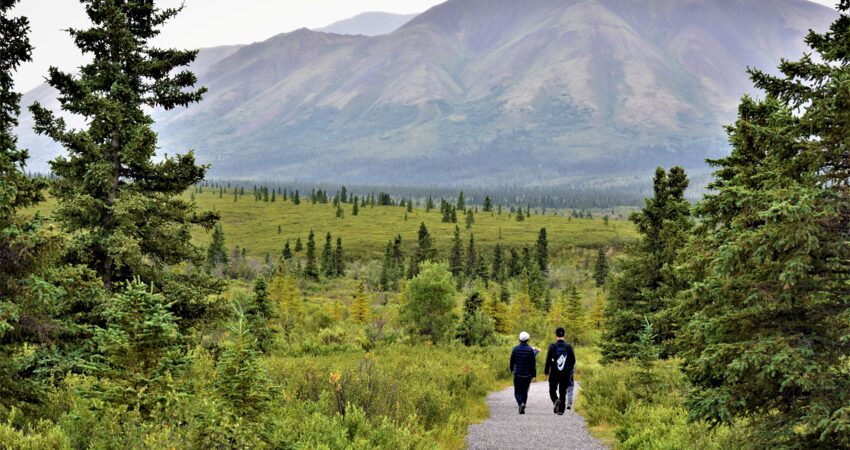 Moderate Denali Park Hikes
Horseshoe Lake Trail
4 miles roundtrip
From the Visitor Center, take the Taiga Trail to connect with the Horseshoe Lake Trail. The route is relatively flat, save for a steep section with stairs on the way down to and back up from the water. This small forest lake is a haven for wildlife. Look for beavers, waterfowl, and the occasional wading moose as you wander. Keep your eyes peeled for signs of wildlife, too. Tall willows stripped of bark, squirrel middens piled high with pinecone remnants, and gnawed-on trees are often easier to spot than the animals who left their marks.
Challenging Denali Park Hikes
Savage Alpine Trail
4 miles point-to-point
1500 ft elevation gain
This through hike connects the Mountain Vista Loop and Savage River Loop trailheads. The trail follows a creek through scrubby forest before cutting gently up a grassy hillside dotted with wildflowers. A few long switchbacks gain you elevation gradually but consistently. After about two miles the trail tops out on a rocky plateau. If weather is on your side, you'll have earned yourself a keen view of Denali. Stop here for some photos and a snack, but keep an eye on your pack. Arctic squirrels on the trail are quite used to people and eager to search for a bite to eat (of course, never ever feed wild animals).
Tip: Park at the Mountain Vista Trailhead (mile 13 on the Park Road) and make it an out-and-back by turning around at the top. The trail is less steep but longer heading up from Mountain Vista, much steeper and shorter heading up from Savage River. If you opt for the through hike, you can either catch the Savage River shuttle or walk back on the Park Road, which adds two miles.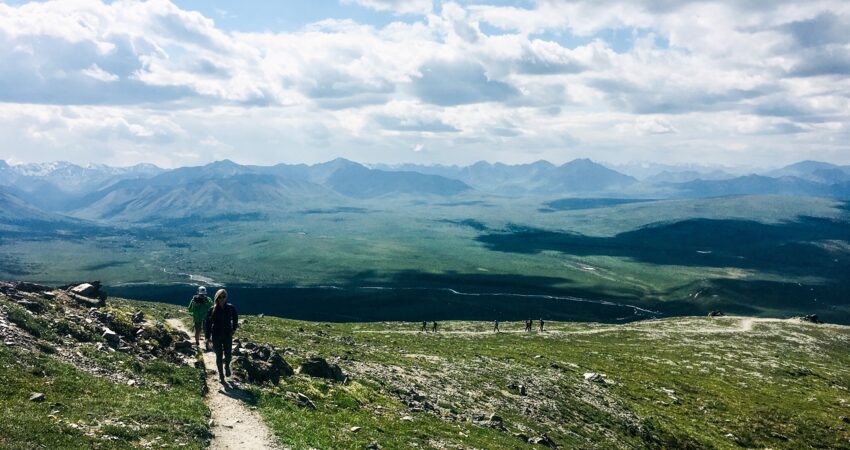 Mt. Healy Overlook
5.5 miles roundtrip
1700 ft elevation gain in 2.7 miles
A hearty lung- and leg-buster, this trail is all about the view from the top. You'll start out on the same route that goes to Horseshoe Lake. Keep an eye out for the sign pointing out the overlook trail, you'll know you're going the right way when the incline increases. You'll go up and up and up some more on a well-trodden, rocky path lined with spruce. Only near the top does the ruffage thin to reveal 360-degree views: The entire Denali Park entrance area, winding Nenana River canyon, surrounding mountains, and even Denali itself.
Tip: Be sure to bring a warm windproof layer to wear up top. Temps can be several degrees cooler at the overlook than at the trailhead.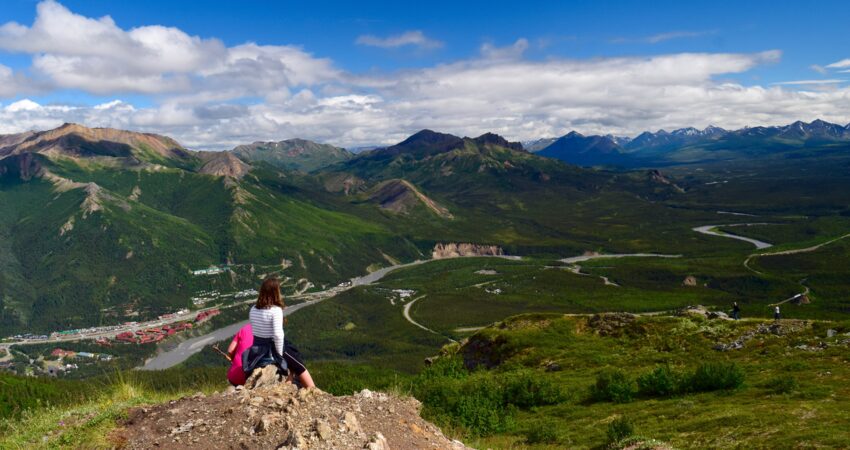 Go with a Guide
Rather hike with a local? Go guided! Guided hikes in Denali Park range from three to five hours. Pick the Denali Walking Tour for a more moderate excursion, or the Denali Interpretative Hike for a more strenuous one. The Denali State Park Wilderness Hike is a couple hours south of the main Denali National Park area but offers some of the best views of Denali and the Alaska Range on clear days.
Tips for Hiking in Denali National Park
Pack layers. Alaska weather is dependably undependable.
Be both bear and moose aware before you hit the trail and follow all posted signs regarding trail closures.
Grab a map from the Visitor Center before heading out. The network of trails around the entrance area is extensive.
---
More Like This: Top 5 Anchorage Hikes for Visitors
---
At Alaska Tour & Travel, we specialize in building custom trips for every timeline, personality, and budget. If you'd like to have an Alaskan plan your Alaska trip, give us a call at 800-208-0200.
---
Posted in: Active Adventures, Best Things to Do, Local Advice