Vast, pristine, incomparable. You must visit Denali National Park while traveling Alaska. There is so much to see and do, but like everything in this wild state there are a few logistics to clear in order to make the most of a visit here. Deciding on the right place to stay near Denali is one of them.
Before we jump in, some background. There's just one road entrance to Denali National Park. There is no town around the park entrance; in fact the area doesn't even have a name, though you might hear it called "The Canyon." There's a cluster of gift shops, galleries, and tour offices connected by a boardwalk, plus a small grocery and gas station. Here we break down those hotels nearest to the park entrance along with options inside the park and farther afield.
Lodging Nearest to the Denali Park Entrance
These properties are located just a few minutes by car or shuttle to the entrance of Denali National Park. They are good picks for travelers traveling to or from Denali by train or motorcoach as shuttles to the Denali Depot and Visitor Center are readily available.
Denali Bluffs - A welcoming mid-size property offering the best value for proximity to the park. The Bluffs' deluxe rooms are also the newest in the area and all look out toward the Nenana River canyon and surrounding mountains.
Grande Denali Lodge - It's a steep and winding road that gets you up to the Grande, but the scenery from up top is worth it. This premium hotel has the best views outside the park entrance. Want to stay in a cozy cabin close to the park? Along with standard and view rooms, the Grande also has six private guest cabins on property.
Denali Wilderness Princess Lodge and McKinley Chalet Resort - These very large resort properties cater to cruise travelers on group land tours. They are within easy walking distance of the seasonal shopping boardwalk.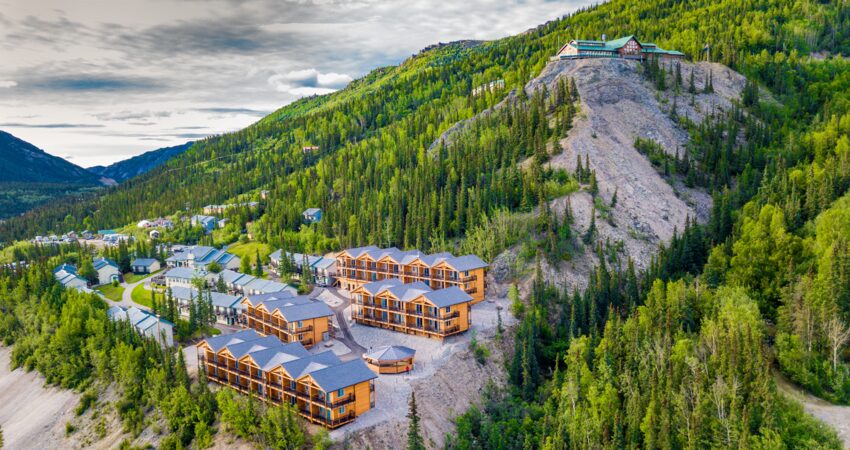 Lodging Inside the Park
Staying at a backcountry lodge inside Denali National Park is by far the best way to comfortably experience the park's beauty, wildlife, and remoteness. The Kantishna Roadhouse and Denali Backcountry Lodge are located some 90 miles down the Park Road. While the park road undergoes significant repairs, guests arrive by plane.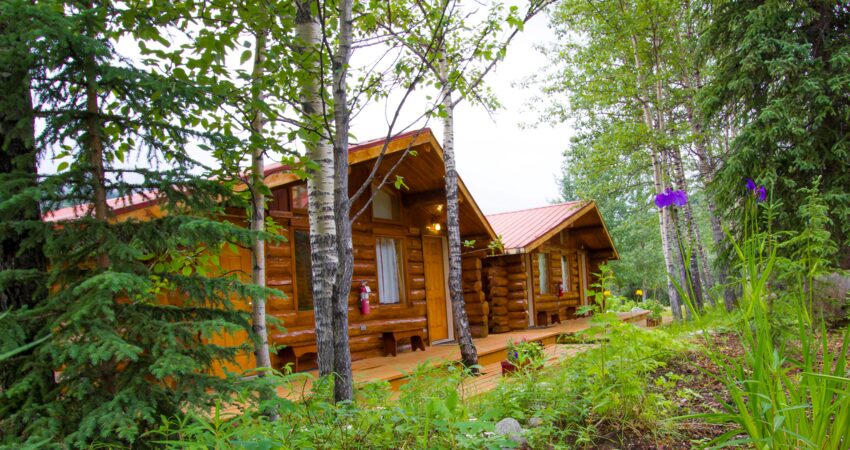 Lodging Farther Afield
A handful of other Denali Park properties are about 15 minutes down the highway from the park entrance. Travelers enjoy these properties more if they have their own rental car.
Denali Cabins - An all-cabin property, guests here enjoy rustic accommodations with modern comforts. Their communal fire pit is a favorite evening gathering spot.
The Lodge at Denali Park Village and Denali Grizzly Bear Resort - Tucked into woods along the Nenana River, both of these properties have lodge guest rooms and private cabins to choose from.
McKinley Princess Wilderness Lodge - Much farther afield, this resort is about two hours south of the park entrance. It boasts Denali mountain views and is a good place to overnight if you're interested in visiting Denali State Park as well as its much more famous national park neighbor.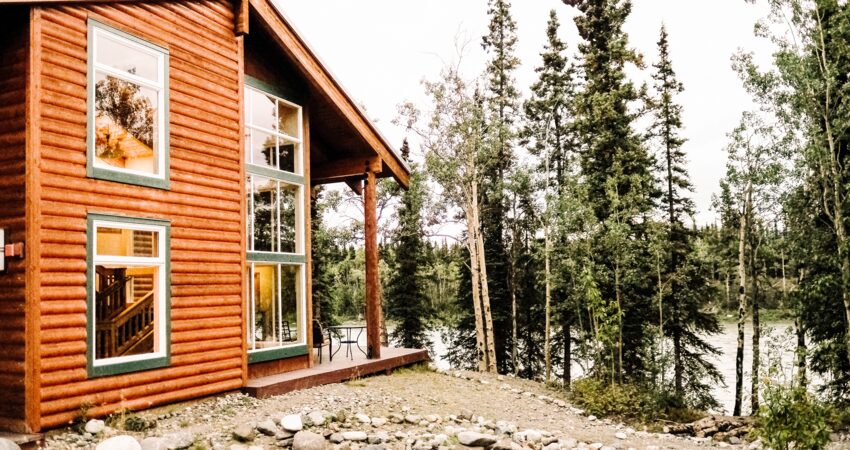 ---
More Like This: Top 5 Denali Park Hikes
---
At Alaska Tour & Travel, we specialize in building custom trips for every timeline, personality, and budget. If you'd like to have an Alaskan plan your Alaska trip, give us a call at 800-208-0200.
---
Posted in: Alaska Parks