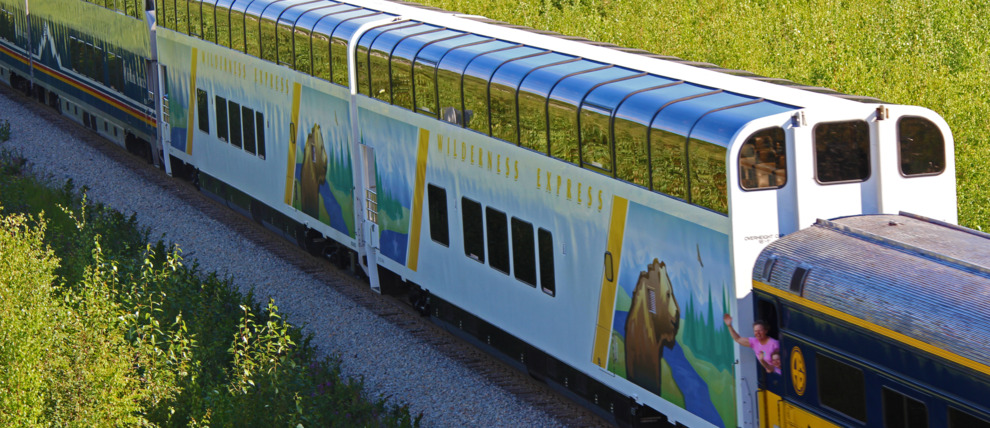 Wilderness Express Dome Rail
Luxury service on Alaska's scenic railway.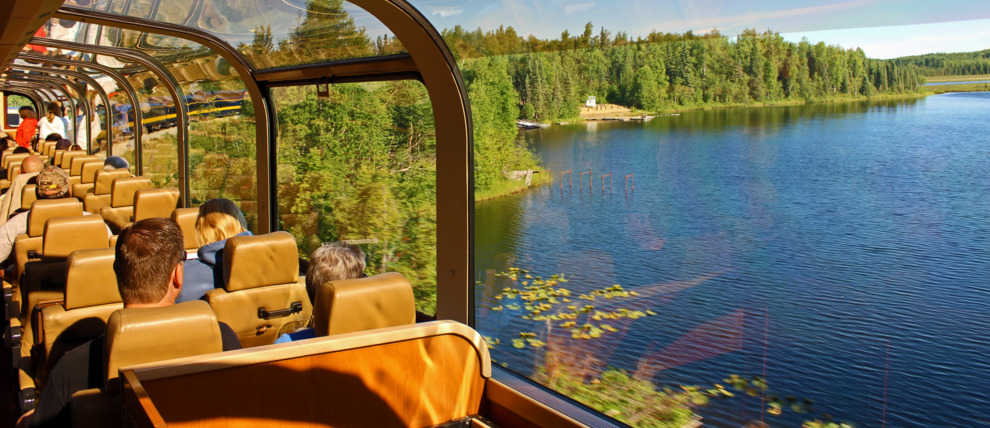 Wilderness Express Dome Rail
Luxury service on Alaska's scenic railway.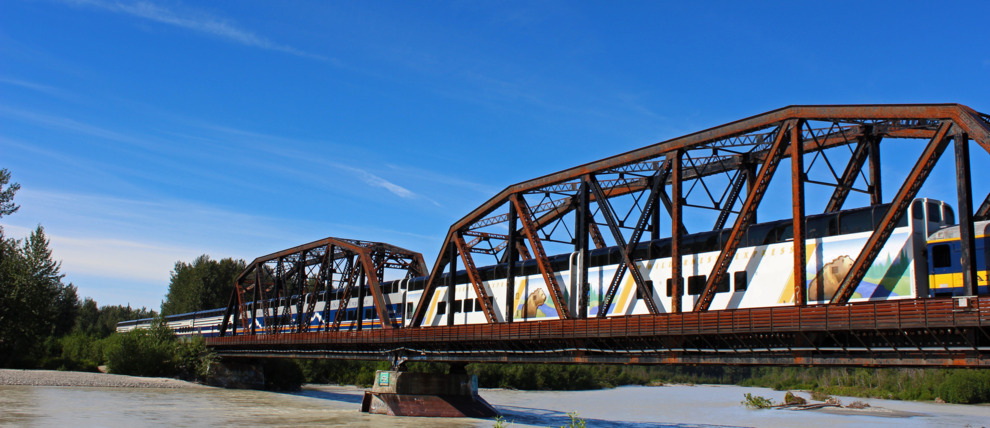 Wilderness Express Dome Rail
Luxury service on Alaska's scenic railway.
The Wilderness Express private rail car service offers daily summer train travel between Anchorage, Talkeetna, Denali, and Fairbanks. The service is owned and operated by a local Alaskan tour company, although the cars are pulled by Alaska Railroad locomotives on the Denali Star route. Wilderness Express ticketholders enjoy their own spacious car and dedicated staff.
The luxury Wilderness Express dome cars were custom built with Alaska's big, wild scenery in mind. Their most notable feature is a full-length curved glass dome that provides unrivaled 360-degree views. All guests have forward-facing seats beneath that upper level dome window. Seats are set in two pairs with a center aisle down the middle. The leather seats are the widest on the rails and come equipped with power outlets and tray tables. There is also a full-service bar in the upper level seating area offering cocktails, wine, and craft beer for purchase.
On the first level, Wilderness Express cars have a private dining room, full kitchen, small gift shop, restrooms, and outdoor viewing platform. Travelers with limited mobility or in a wheelchair can move between the rail platform and car levels via a lift and elevator.
The Wilderness Express boasts some of the best food on the rails. Often featuring local ingredients, there's a signature Alaskan specialty available for every meal service. All dishes are made to order by onboard chefs. To see a sample menu for the current summer season, please visit our Wilderness Express Dining page. Passengers can expect to pay about $10 to $16 for breakfast, $13 to $16 for lunch, and $17 to $30 per dinner entree. Vegetarian and gluten free options are readily available.
Even with many luxe amenities, it is the Wilderness Express service experience that guests long remember. A dedicated onboard car host narrates throughout every trip, sharing pieces of history, detailing interesting wildlife facts, and pointing out especially scenic views. Seat-side bar service in the upper level completes the luxury feel.
Wilderness Express fares typically fall in between the Alaska Railroad's Adventure Class and GoldStar services. The Wilderness Express also offers both adult and child fares, making this premier rail option ideal for families traveling with children ages 2 to 11. Wilderness Express tickets can be purchased online using our Train & Bus Express Checkout tool. Availability can be limited on some days, even well in advance, so book early. If you'd prefer to chat about your options first, please give us a call at 800-208-0200.
Wilderness Express Dome Rail